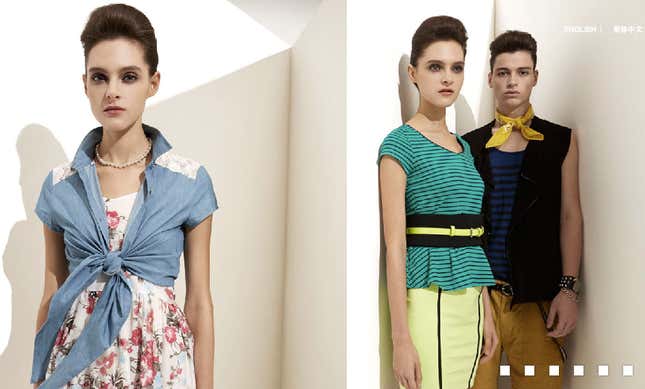 Earlier this week, the Hong Kong-based retailer Yishion announced its expansion into Brazil. Over the next decade, the chain described by Brazilian media as "Zara Chinesa" will open as many as 500 stores, starting with a distribution center and a concept store in Sao Paulo by the end of this year. Yishion has over 5,000 stores across China and one in India.
Yishion may share a few traits with the Spanish retailer Zara. But don't expect the untested company to outdo Zara in Brazil, where the Spanish chain has had stores since 1999 and is now in most of Sao Paulo's shopping malls. Here's why:
For one thing, Yishion doesn't have the global cachet to justify charging a premium for its wares. In keeping with Zara's fast fashion model, the company, founded in 1997, sells discount apparel mimicking runway styles in Asia and elsewhere. Yishion's popularity is predominately in second-tier Chinese cities. Its wares are cheaply sourced from Chinese factories and sold in supermarkets like Carrefour as well as its own shops. But Yishion lacks the brand appeal of fast fashion behemoths like Zara, H&M or Uniqlo in China, which can leverage their global reputation and thousands of stand-alone stores.
As such, Yishion is more like smaller Chinese apparel retailers such as Giordano or Metersbonwe, which are mainly known domestically, Avery Booker, vice president of marketing at Bomoda.com, a Chinese fashion newsletter, tells Quartz.
Braving Brazil's retail landscape isn't easy for foreign companies, which face import taxes of up to 35%. As a result, both Zara and Britain's Topshop price their goods somewhat higher in Brazil and market to customers who are wealthier (paywall) than their home-country clientele.
But if Yishion can outdo competitors like Zara on price, it may be able to tap Brazil's very low-end consumers. That's how China's automakers managed to spread rapidly into emerging markets and trump foreign carmakers. Chery International's basic vehicles, for example, have taken off in Africa, the Middle East and Latin America. "In Brazil…Yishion's presence may ultimately be similar to that of a Chinese carmaker like Chery, a relatively cheap import but no real competitor for entrenched brands," Booker says.