Works by the artist Jeff Koons are generally not available to the everyday collector. In 2013, his Balloon Dog (orange) was the most expensive piece of art by a living artist ever sold at auction, at $58.4 million. The following year, more than half of the highest-selling auction lots in ArtNet's database were works by Koons, who consistently tops the publication's list of "most expensive living artists."
Now, thanks to the luxury brand Louis Vuitton, you can buy a Koons for the bargain price of $585. It's a leather keychain, and it's shaped like an inflatable bunny.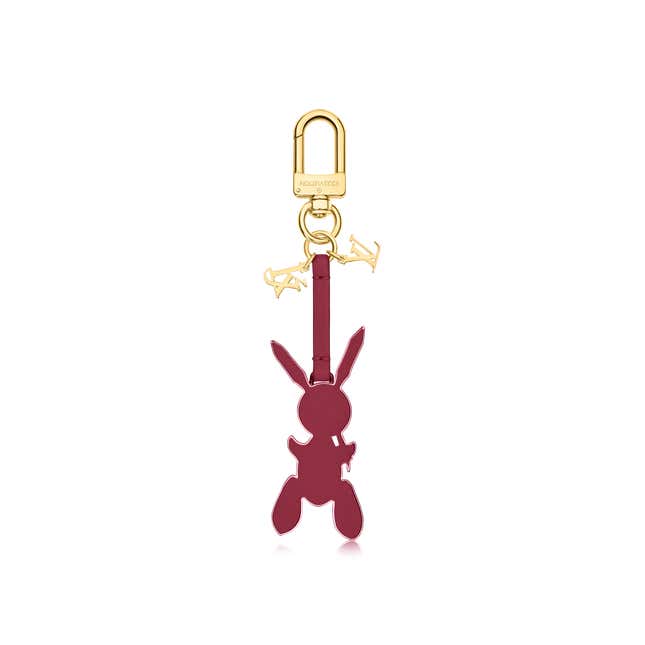 This bunny is the most affordable piece of "Masters," a new collection of accessories Koons designed for the label, emblazoning classic works of art such as the Mona Lisa and Titian's Cupid onto classic Louis Vuitton handbags such as the Speedy and the Keepall.
"Masters" is by no means Louis Vuitton's first foray into fine art. Stephen Sprouse and Takashi Murakami both reimagined Louis Vuitton's logos for wildly successful accessories under former creative director Marc Jacobs, and in 2014 the Fondation Louis Vuitton, a permanent museum designed by Frank Gehry, opened in Paris.
For his part, Koons presents the project as a carry-able extension of his 2015 "Gazing Ball" series, in which he reproduced masterpieces by artists including Rembrandt and Manet.
"They touch on the metaphysical," Koons told the New York Times, speaking of his new handbags. "They're about shine, the basics of philosophy, passion, what it means to be a human, what it means to be an animal, the idea of transcendence."
If that sounds like a lot to put on a purse, it is. Van Gogh's Wheat Field With Cypresses on a periwinkle leather tote bag has VAN GOGH spelled out in gold letters alongside Louis Vuitton's iconic monogram, alongside a new "JK" monogram (for Jeff Koons, not "just kidding"). The effect challenges conventional notions of good taste. But then, subtle luxury hardly seems to be the goal of this collection, which was created without the input of Louis Vuitton's women's artistic director, Nicolas Ghesquière.
Instead, according to both Koons and Louis Vuitton chief executive Michael Burke, these bags are about bringing classic works to "the street"—where a person with a $3,200 backpack depicting Rubens' The Tiger Hunt could handily unzip their carryall to reveal a short biography of the Flemish baroque master, perhaps.
The project, Koons told The New York Times, "made me want to make more things that are accessible to people."
Here's a selection of items from the collaboration:
Palm Springs backpack, featuring Rubens' The Tiger Hunt, $3,200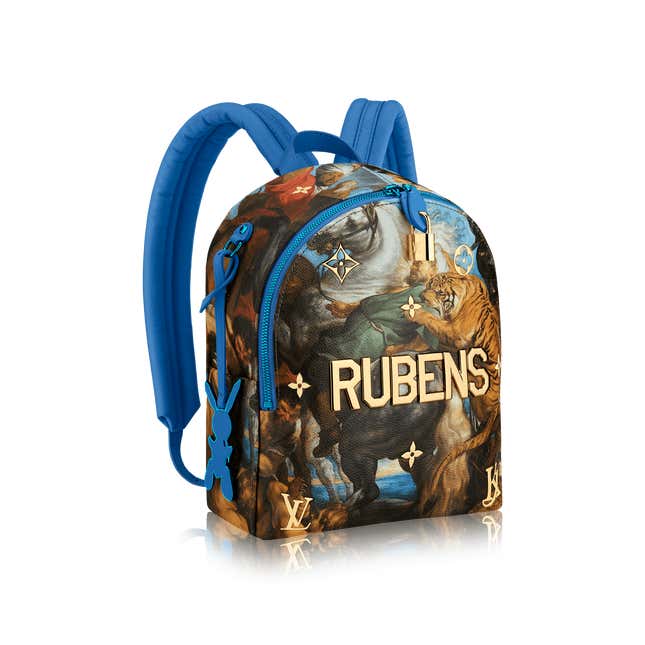 Neverfull tote, featuring Titian's Cupid, $3,200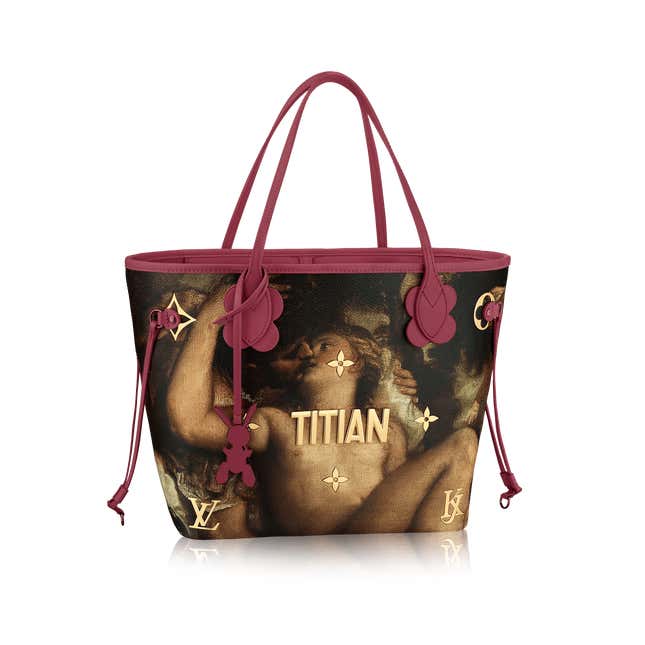 Clutch, featuring Da Vinci's Mona Lisa, $1,470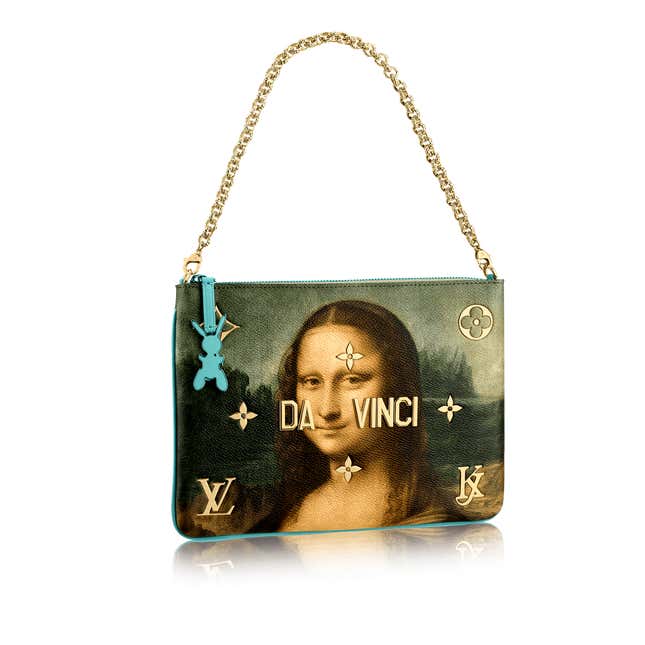 Keepall 50, featuring Rubens' The Tiger Hunt, $4,000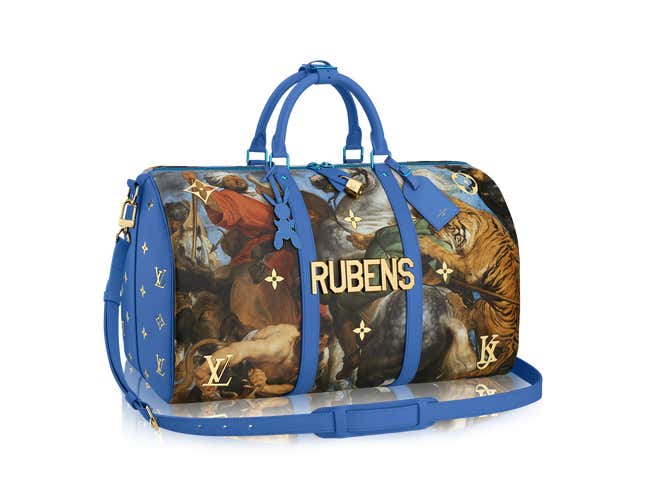 Correction: An earlier version of this article said Jeff Koons' "Balloon Dog" was the most expensive piece of art ever sold at auction. It was the most expensive piece of art ever sold at auction by a living artist.