The US Federal Bureau of Investigation (FBI) is still looking for Andy Warhol's missing soup cans, a year after seven of the iconic screen prints were stolen from the Springfield Art Museum in Missouri. In a playful turn of events, the bureau created a poster that embodies the true spirit of Warhol's art.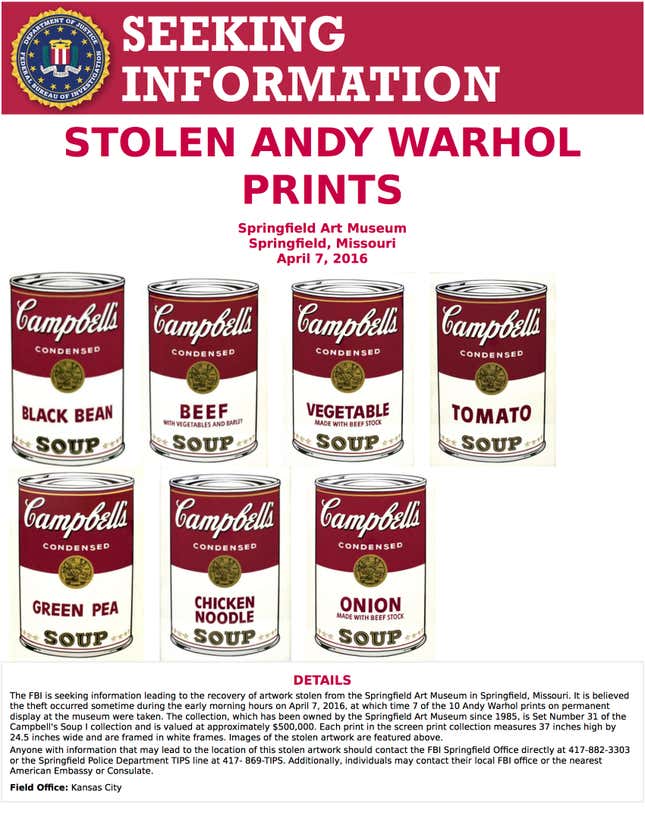 The "Seeking Information" notice is an official document released by the bureau's Kansas city office, posted April 7, 2016 on its website. It shows the seven soup can prints of different flavors—from "Black Bean" to "Onion"— missing since the Springfield heist. Warhol's idea was to mimic Campbell advertisements in their repetition and the uniformity of the images. Almost like an ingenious parody, the FBI is now doing the same by reproducing the star artist's images exactly as they are, on their own poster.
Coincidentally, the FBI poster's header carries a burgundy color scheme that is standard for most other FBI "Seeking Information" notices but, in a nice touch, also matches the original soup cans.
The FBI posted a reward of $25,000 for anyone who could offer information on the stolen prints. The notice also says the Campbell's Soup I collection is valued at $500,000.
This poster could very well be turned into an accidental work of art one day, marking a page in pop art history. Warhol would certainly be delighted by the FBI's homage.