This April 20, the unofficial but much beloved stoner holiday known as 4/20, marijuana enthusiasts have more places to legally get high than ever before.
The origins of 4/20, also known as 420 and 4:20, are—perhaps unsurprisingly—a bit murky. One deep-dive effort by the Huffington Post followed the term back to a group of California students in the early 1970s who met up at 4:20 p.m. after school to smoke. The vocabulary was later picked up by followers of the Grateful Dead and spread globally by weed-friendly publications like the High Times magazine.
Today, marijuana has in many ways gone mainstream, and 4/20 is celebrated worldwide. In the US, public opinion polls show 53% support making marijuana legal for medical or recreational use, according to Pew Research.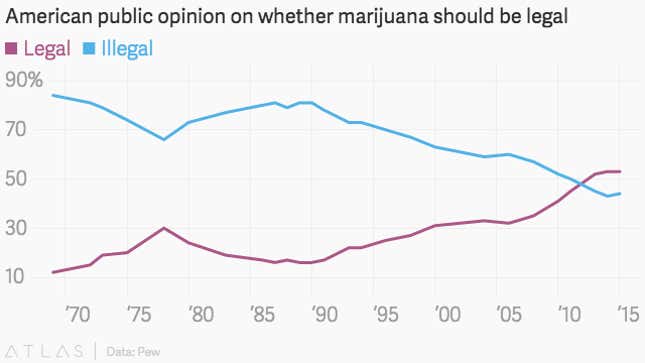 In places where weed has already been legalized, consumers are enjoying new—and increasingly high-end—ways to get high.
In California, a luxury marijuana box service called Club M offers a curated choice of flowers, edibles and concentrates delivered to subscribers' doorsteps. Meanwhile, this year on 4/20, revelers in Parachute, Colorado, won't even have to leave the comfort of their own car: The nation's first drive through pot shop is opening its doors.
Where is marijuana legal in the United States in 2017?
Smoking weed is legal to some extent in 30 states, though the majority only allow consumption for medicinal purposes.
Recreational use—including for those seeking a legal buzz on April 20—is allowed in Washington state, Oregon, Nevada, California, Colorado, Alaska, Maine, Massachusetts, and Washington D.C.
Where is marijuana legal around the world?
Around the world, marijuana is legal for recreational users in Uruguay, and is both decriminalized and widely available in places like the Netherlands and Spain. Canada will soon join the list.
Thrillist has this helpful roundup of 30 "legal-ish" places to smoke worldwide.
Are more people smoking weed than before?
Yes and no.
Across the globe, consumption levels have remained relatively consistent over the past few years, according to the United Nations Office on Drugs and Crime. Just under 4% of the global population is estimated to have used cannabis in 2014.
Since 2009, consumption has been rising in the US, although the overall rate of use is still lower than it was in the late 1970s.
Notably, a small number of heavy users consume most of the weed smoked in America, per US Substance Abuse and Mental Health Services Administration data. Users who report a daily or near-daily weed intake, though they represent just 20% of all users, account for roughly 80% of the quantity consumed.
This trend concerns people like Mark A. R. Kleiman, a professor of public policy at NYU who studies drug policy and crime control. He says the weed industry has a commercial imperative to increase habitual consumption of its products.
The industry "will design their products, marketing and lobbying to maximize the number of 'wake and bake' stoners," he said. "The companies' interest is therefore directly contradictory to the public interest."
Is a crackdown on legal marijuana in the US coming?
White House press secretary Sean Spicer made waves in February when he told reporters that president Donald Trump sees the value of medical marijuana, but that the Justice Department was likely to step up enforcement on recreational use.
This put the president at odds with attorney general Jeff Sessions, who has called medical marijuana "hyped" and said in March that consuming pot was only "slightly less awful" than heroin.
Does this signal a new wave of federal enforcement to hem in state-sanctioned growers and distributers where recreational use is legal? Possibly—though Kleiman doesn't think so.
"They're not going to fight that fight," he said. "I look at the polls, and cannabis is a hell of a lot more popular than Trump."