North Korea's leader Kim Jong-un assumed control of the country following his father's death in 2011 and has quickly set about shoring up power, pushing ahead with North Korea's nuclear program, and reportedly executing hundreds of people.
Global observers with even the vaguest interest in the rogue peninsular understand these types of basic details about North Korea. US president Donald Trump, however, may not. Asked by Fox & Friends co-host Ainsley Earhardt on April 17 whether he has ruled out a military strike on Pyongyang, Trump repeatedly referred to North Korea's leader as "this gentleman"—and implied he was dealing with the same "gentleman" that former presidents Bill Clinton and Barack Obama had grappled with:
"You know, they've been talking with this gentleman for a long time. You read Clinton's book, he said, 'Oh, we made such a great peace deal,' and it was a joke. You look at different things over the years with President Obama. Everybody has been outplayed, they've all been outplayed by this gentleman. And we'll see what happens. But I just don't telegraph my moves."
Unfortunately for Trump, the "gentleman" Clinton was talking to during his presidency was in fact Kim Jong-il—the now-deceased father of Kim Jong-un.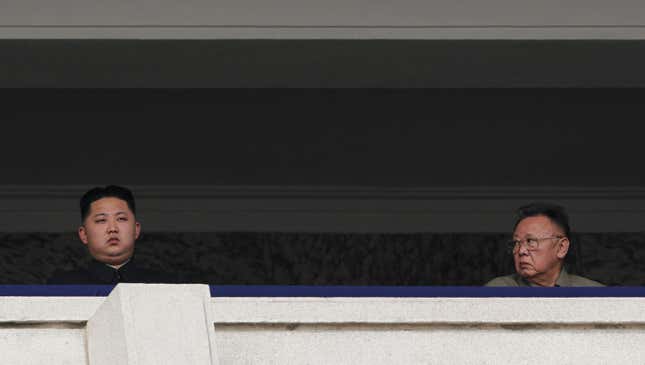 This is not the first time Trump has appeared publicly confused while talking about geopolitics or North Korea. Last week, he revealed that it took Chinese president Xi Jinping just 10 minutes to convince him that solving problems with North Korea is "not so easy." Meanwhile, last summer Trump seemed to admit that he didn't know Russian proxies were fighting in Eastern Ukraine, saying Vladimir Putin is "not going into Ukraine, OK, just so you understand. He's not going to go into Ukraine, all right?" When it was pointed out that Putin was in fact already there, Trump gave a rambling response, beginning with, "OK—well, he's there in a certain way."
Regarding Kim Jong-un's recent display of military bravado, Trump, as is his custom, refused to tell Fox whether he'd order a strike on North Korea, saying: "I'm not like other administrations where they say, 'We're going to do this in four weeks.' It doesn't work that way. We'll see what happens. I hope things work out well. I hope there's going to be peace."