Only half of the New England Patriot's 68 players showed up to a ceremonial speech in their honor at the White House today. No-shows from this year's Super Bowl-winning football team included quarterback Tom Brady and wide receiver Danny Amendola.
"Where's Danny?" Trump said according to the Washington Post, unaware of Amendola's absence. "Way to go, Danny."
The Patriots last won the US football championship in 2015, earning a similar show of congratulations from then-president Barack Obama. ESPN estimates that about 50 players showed up then, compared to just 34 who made the trip to the Trump White House this year. Both years, the podium and players were staged in exactly the same formation, allowing a striking visual comparison between photos of the event.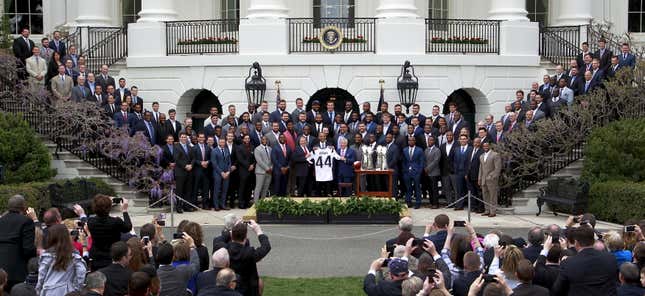 Several players this year alluded to US politics as motivation for not attending: "I just don't feel welcome in that house," running back LeGarrette Blount reportedly told the Rich Eisen radio show.
"Basic reason for me is I don't feel accepted in the White House. With the president having so many strong opinions and prejudices, I believe certain people might feel accepted there while others won't," safety and team co-captain Devin McCourty told Time.
Brady, the Patriot's biggest star, skipped both the 2015 visit and this year's event, citing family matters both times.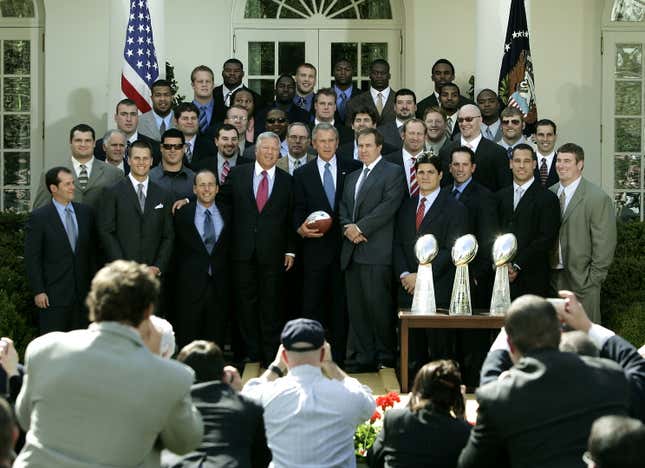 It's not uncommon for just a few representatives from Super Bowl championship teams to make the ceremonial trip to the White House. Only 27 Patriots players showed up to be honored in 2005, when George W. Bush was president, reports the Post. In fact, a quick scan of photos through the years suggests that the high attendance at the Obama White House in 2015 was an anomaly—which nonetheless can't be welcome news for Trump.
Update: In a series of late-evening tweets, the Patriots noted that in 2017, some players were also seated on the lawn behind the camera. The team tweeted a photo which shows many more people lining the stairs behind Trump's podium, but also confirmed that just 34 Pats players were in attendance.