Fashion is full of excess, frivolity, and plain weirdness, but once in a while an item will so completely encapsulate these qualities that it catches the spotlight outside the industry. Right now, that item is Balenciaga's $2,145 "Extra-large Shopper Tote," which has drawn coverage from sources including CNN because of its marked similarity to the blue, wrinkled plastic bags Swedish furniture chain IKEA sells shoppers for 99 cents.
Balenciaga hasn't said whether the bags are based on IKEA's, but it wouldn't be surprising to learn they are. About a year ago the brand also raised eyebrows with pricey bags that looked an awful lot like the oversized market bags common in Thailand.
The bemusement is mostly about how closely the bag in "blue wrinkled, glazed leather" resembles IKEA's, versus the vast chasm in price. If that's surprising, it probably shouldn't be by this point. In fact, if you own a pair of expensive jeans—and aren't a miner or rancher—the process that landed them in your wardrobe isn't all that different from what led Balenciaga to make its attention-grabbing tote.
A big change happened in fashion in the latter half of the 20th century. Where clothing had long been a reflection of class, it started to take influence from other forms of social status, such as "cool"— and high fashion, previously the preserve of the rich and accustomed to dictating trends down to the street, began to shift.
"By the mid-1960s the international fashionable pace was being set not by Paris couturiers but by a talented group of designers in London," write Valerie Mendes and Amy de la Haye in their history, 20th Century Fashion. "The most significant aspect of this change was that fashion's cutting edge began to focus on the average young man and woman in the street rather than a select, wealthy few."
Fashion wasn't just catering to the street, but looking to it for ideas and blending high and low. Blue jeans, created as workwear for miners and cowboys, became increasingly popular, for instance, and made their way into collections by designers such as Yves Saint Laurent. In 1999, Tom Ford helped usher in the era of designer denim that's still going with a pair of feather-trimmed, embroidered jeans that carried a price tag of $3,000. Fashion transformed a utility item into a luxury one, and even today most high-end jeans are essentially a more expensive replica of Levi Strauss's practical design.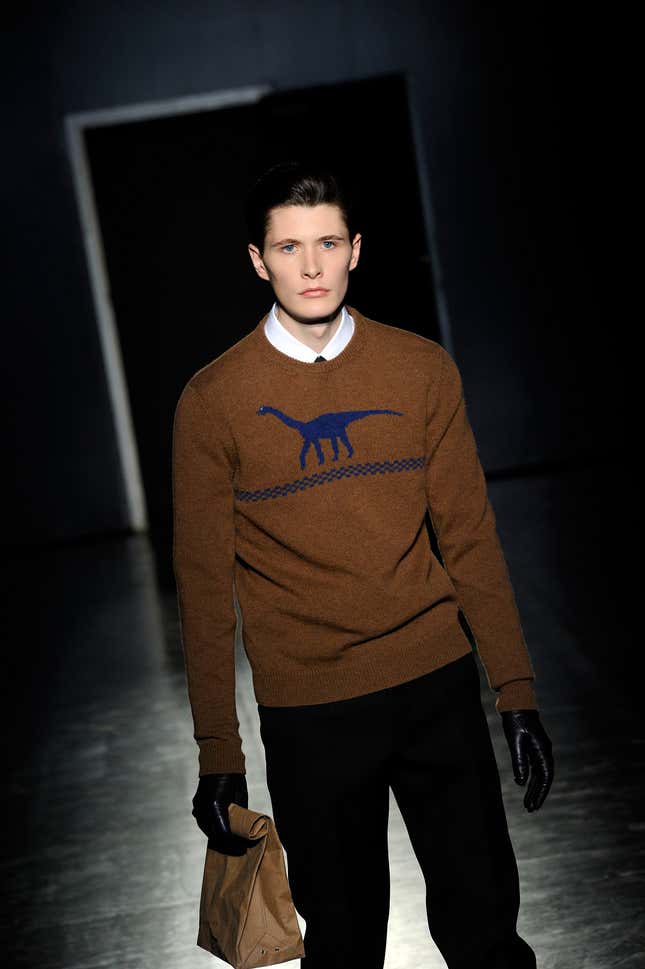 Designers have continued to pull ideas from even farther beyond the realm of high culture, including taking non-fashion items and turning them into fashion, as Raf Simons did for Jil Sander when in 2012 he made a $630 leather imitation of a brown paper lunch bag, and Chanel did with its Lego-block clutch that clocked in at nearly $10,000 in 2013.
They recreate vintage garments, which is more or less what Saint Laurent did in 2013 with its $68,000 1990s-esque baby- doll dress, a garment that evidently required hundreds of hours of tailoring.
They even make straight replicas of items. Martin Margiela started a "Replica" line in 1994 that faithfully reproduced found garments.
Balenciaga's creative director, Demna Gvasalia, frequently follows in Margiela's footsteps, and practically made his name repurposing common items, including T-shirts with the colors and logo of shipping company DHL.
IKEA may be the latest to have its product remade in high-end materials and stamped with another brand's logo, but it won't be the last.