World War II was a defining moment in the history of modern women: While men went off to battlefields, women took up responsibility in factories and offices. But that is not all: In the UK, women also joined the war as service members—including the Queen of England herself, who was war mechanic when she was still a princess.
For a new book titled The Second World War in Colour, the Imperial War Museum released rare photos showing women working in branches of the Royal Air Force and the British Army during the height of war. The images show women toiling away as spotters who monitored enemy activities, plotters who drew on artillery charts, or producing bullets and cannon shells. Vivid hues of the blue sky, red and yellow parachute fabric, and the green uniforms remind us of the early role of women at war.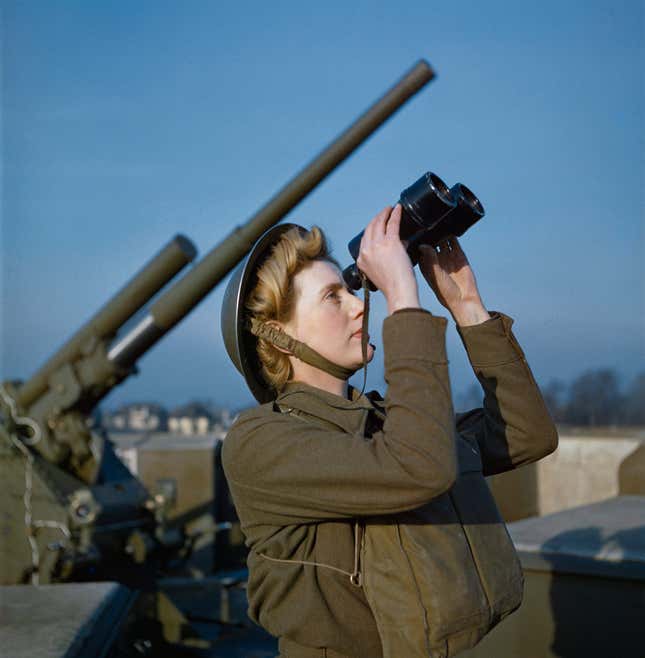 As early as 1918, about 32,000 British women served in the Women's Royal Air Force. The group was disbanded in 1920, and reformed in 1939 as the Women's Auxiliary Air Force, with over 180,000 members by 1943, according to the WAAF Association website.
According to BBC, women were initially recruited to the British Auxiliary Territorial Service and the Auxiliary Air Force as "clerks, kitchen orderlies and drivers, in order to release men to front-line duties," but as the second world war went on, they progressed to take up position as "mechanics, engineers, electricians and fitters for airplanes," and were involved in "meteorology, transport, telephony and telegraphy, codes and ciphers, Intelligence, Security and Operation Rooms." Across the Atlantic, American women even became air service pilots in the United States Air Force, due to a severe shortage of pilots.
Some 3,000 color photos were taken by the British military in between 1942 and 1945. They were held by the Ministry of Information for record purposes before they were turned over to the museum archives. This is the first time these images are seeing the light of day.