The premiere of a virtual reality short by the Oscar-winning director of "The Hurt Locker" and "Zero Dark Thirty" was a predictable hit at the Tribeca Film Festival. But a surprise visit by Hillary Clinton sealed the deal.
The former Democratic presidential nominee, who has been racking up standing ovations for her appearances at Broadway performances, was an unannounced panelist there to discuss Kathryn Bigelow's "The Protectors: Walk in the Rangers' Shoes." Bigelow is the only female director to ever win an Oscar for best director.
The eight-minute film is about the fight against elephant poaching and ivory trade in Garamba National Park in the Democratic Republic of the Congo. Viewed via 360 degree VR headsets, it gives audiences the Garamba rangers' experience of searching for poachers on the ground, and from the air above. The short will be released by National Geographic on May 1, on the virtual reality app Within.
Clinton spoke about her work to stop what she called "the horrific slaughter of elephants," as well as illegal ivory trafficking as secretary of State with the Obama administration, and later with the Clinton Foundation.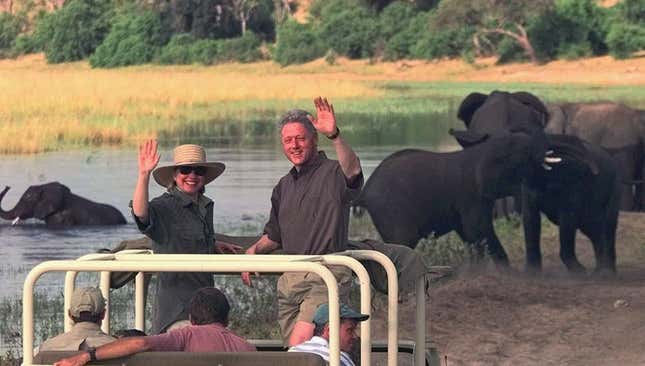 "It became clear to everyone that this was not just a terrible crisis when it came to the elephant population, it was a trade, a trafficking that was funding a lot of bad folks, a lot of bad actors," said Clinton, according to the Associated Press. "It was being used to take ivory and sell it in order to buy more weapons, and support the kind of terroristic activity that these and other groups were engaged in."
Today, an elephant is slaughtered every 15 minutes, and the sale of illegal ivory from elephant tusks are used to facilitate attacks by African terrorist groups like Al-Shabaab, The Lord's Resistance Army, Boko Haram, and Janjaweed. In 2016 alone, more park rangers were killed trying to protect wildlife than the US has lost to combat deaths in Iraq since 2010. Since 2006, 19 rangers have been killed protecting wildlife in Garamba National Park, whose elephant population has fallen by 90% since the 1960s to less than 1,300 total.
Questioning what Americans far from poaching grounds can do, Clinton recognized Bigelow's VR film as a critical portrait inspiring viewers to get involved in protecting rangers, "who are up against some of the most ruthless killers anywhere on the planet right now, and doing the very best they can."
Clinton noted that the US is the second-largest market for illegal ivory, preceded only by China. As Earth Day science marches were proceeding worldwide, she stated that "part of science is understanding the intricate relationships that we share with all those on this planet and particularly large mammals like elephants, who have a role to play both in reality and in our imaginations."