The markets have been rocky in China—and so have the marriages. Last year, the number of married couples in the Middle Kingdom who divorced rose 8% nationwide (link in Chinese), compared with 2011. In Shanghai, divorces jumped nearly 14%, reports the Shanghai Daily. Marriages, meanwhile, increased only 1.6% compared with the previous year. That's the first time since 2004 that the "crude divorce rate"—meaning the number of divorces per 1,000 people—grew faster than the crude marriage rate.
The rise can't be chalked up to heartbreak alone. Rumors in March of an imminent 20% tax hike on home-sale proceeds—current rates are 1-2%—drove a spike in divorce filings among couples with two or more homes. Since the rumored property tax would only affect households with multiple homes, divorcing allowed each person to claim their own home while dodging the tax man. Tianjin reported a fivefold jump in divorce filings in the first week of March, compared with the previous week.
The tax issue is just one of many in the fraught relationship between Chinese real estate and matrimony. For young men, home purchases are often considered a pre-requisite for marriage. With housing prices soaring and a growing gender imbalance, it's taking men longer and longer to save up for homes, which has contributed to a delay in marriages. The percentage of 20 to 24-year-old couples declined between 2011 and 2012, while that of those aged 25-29 rose.
More women are also delaying marriage in order to focus on their careers, while divorce is simply becoming more socially acceptable. The divorce rate has been growing steadily since 2003, when the government scrapped requirements that couples receive written permission from their employers to divorce. Here's a look at that: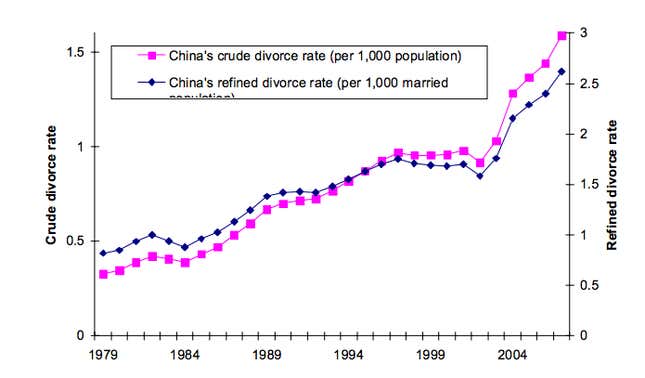 The divorce rate will continue to climb as China's population slows and its youth population declines—its population is growing at a mere 0.5% a year. At least China can take solace in America's divorce rates. Right now China's rate is on par with that of the US in the early 1960s.