Pope Francis delivered an 18-minute TED talk tonight before an audience of 1,800 high-powered attendees gathered in Vancouver, Canada. His idea worth sharing: Openness.
Pope Francis was a surprise addition to a speaker line-up that includes World Bank president Jim Yong Kim, tennis champion Serena Williams, and surgeon-writer Atul Gawande. Speaking in Italian via a pre-recorded video filmed in Vatican City, the head of the Roman Catholic Church tackled the conference theme "The Future You."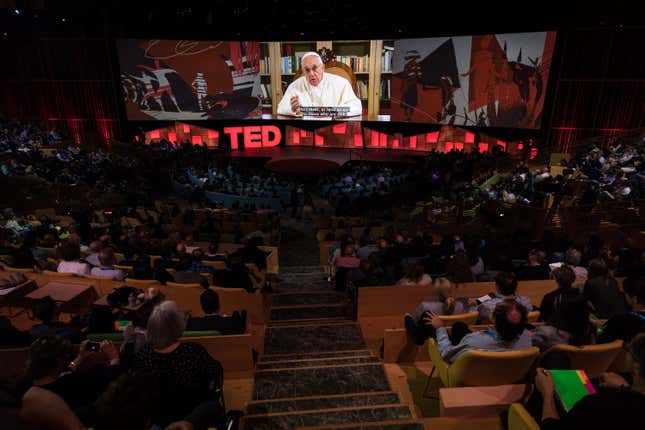 "Many of us, nowadays, seem to believe that a happy future is something impossible to achieve," said the Pope. That fear, he said, "can be overcome when we don't lock our door to the outside world."
In the era of Brexit, the European refugee crisis and the Trump administration's "America First" policies, the Pope preached solidarity, especially with the world's 244 million immigrants displaced by war, calamity or poverty. "I myself was born in a family of migrants," he said. "My father, my grandparents, like many other Italians, left for Argentina and met the fate of those who are left with nothing. I could have very well ended up among today's 'discarded' people."
The Pope's message echoes the talk of Rabbi Lord Jonathan Sacks, another religious leader at TED who extolled the need for personal encounters with those whose politics we don't necessarily agree with.
The pontiff also addressed TED's tech-obsessed attendees, including SpaceX founder Elon Musk, who is scheduled to speak at the conference later this week. "If the growth of scientific and technological innovation would coincide with more equality and social inclusion," the Pope Said. "How wonderful would it be if, while we discover far away planets, we could also rediscover the needs of the brother, or the sister, orbiting around us."
With the address live-streamed in several movie theaters across the US and Canada, Pope Francis also had a message for the brash-talking, headline-grabbing leaders of the world. "Allow me to say it loud and clear: The more powerful you are, the more your actions will have an impact on people, the more you are responsible to become humble," said Pope Francis, who went on to call for a "revolution of tenderness."
"Tenderness is the path of choice for the strongest, most courageous men and women," he said. "Tenderness is not weakness; it is fortitude."
TED's international curator, Bruno Giussani, explains that it took several tries to convince the popular pontiff to speak at the conference. "When I first approached the Vatican, it's fair to say that not many there knew of TED," Giussani said. "So there was a lot of explaining to do."