The tech industry was quick to voice its opposition to US president Donald Trump's first executive order on immigration in January, which banned travelers from seven majority-Muslim nations from entering the country. Companies penned scathing letters and signed amicus briefs. Their employees staged walkouts. Venture capitalists donated tens of thousands of dollars to civil rights groups.
Silicon Valley's power brokers also pushed their views directly in Washington. A Quartz analysis of federal lobbying reports found that four of the six biggest public technology companies spent money lobbying on immigration in the first quarter of 2017, when some of Trump's most divisive policies were rolled out. Facebook noted "Executive Order 13769," Trump's first executive order on immigration, among the line items in one of its reports. Google parent Alphabet, whose executives have been some of the most vocal opponents of Trump's "America-First" immigration policies, lobbied on immigration last quarter more than it has in the past nine years, citing "travel ban," "travel restrictions," and "travel from countries of concern" in its reports. (For this analysis, we combined Google's lobbying reports with those filed by Alphabet starting in 2015, when the company reincorporated.)
Quartz examined more than 2,000 lobbying reports going back to 2008 for six of the biggest technology companies in the US. Of those, IBM and Apple were the only two that didn't mention immigration in their lobbying reports for the first quarter of Trump's presidency. Those two companies haven't reported lobbying on immigration since 2014, and Apple only did so twice over the entire period (and therefore was left out of the chart below).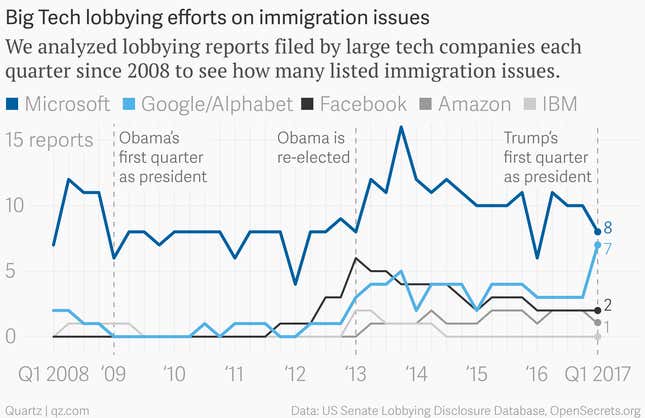 "When a large tech company lobbies on net neutrality or hundreds of other issues, it's almost always because of the industry's needs," said Stu Loeser, a press secretary to former New York mayor Michael Bloomberg who now advises tech companies. "That's what lobbying is, and this was different. While the immigration ban did have potential impacts on tech companies, the industry's opposition was driven by the companies' employees and leaders' personal views. It was a gut issue about injustice for individuals, not just a business decision."
Federal law mandates that companies and the lobbyists they hire disclose their lobbying activities on a quarterly basis. Companies typically employ multiple lobbying firms, each of which files its own quarterly report. They are required to disclose total spending in the quarter in each report, and list specific issues lobbied on, for instance, "immigration," "trade," "consumer product safety." Lobbying firms do not need to break out how much they spend on each issue. "A company could spend a great deal lobbying an issue in one quarter and we cannot know that," said Craig Holman, a government affairs lobbyist at Public Citizen. But counting how often these issues appear can be a good proxy for their clients' interests.
Immigration is a touchstone topic in the technology industry. Silicon Valley has long relied on immigrants to spur innovation (more than 50% of startups valued at $1 billion or more were founded by a first-generation immigrant) and to fill a void in domestic tech talent. That's given companies with disparate business interests a common goal in Washington, especially as Trump pursues a "hire American" agenda.
In the latest quarter, Microsoft reported lobbying on immigration more than any of its peers in Big Tech. Five of its eight lobbying reports referred to "high-skilled immigration" or the H-1B visa, and one cited "comprehensive immigration reform, generally." But this isn't new. Microsoft pushed for highly skilled immigration reform well into the Obama administration, reporting 16 lobbying efforts at its peak in Q4 2013. Since 2008, immigration has appeared in 340 of Microsoft's lobbying reports, compared to 76 of Google's, the next most-active company on the topic.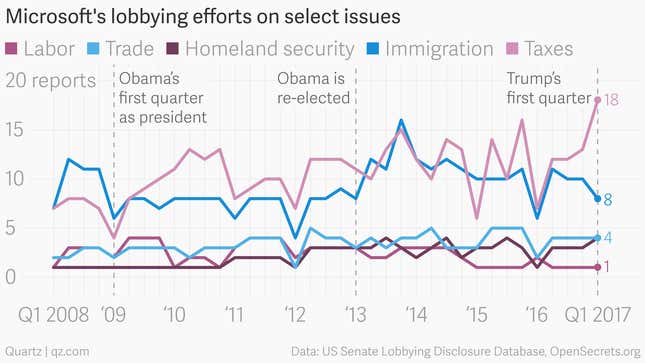 Alphabet's interest in immigration lobbying jumped in the first quarter of 2017. Seven of the 24 lobbying disclosure forms filed on behalf of the company report lobbying on immigration issues, more than doubling the three lobbying efforts on the topic in the previous quarter.
Three of Alphabet's seven lobbying reports in the most recent quarter refer to Trump's travel ban, listing their efforts as "legislative responses to E.O. 13769 and E.O. 13780." Five of the reports mention issues related to H-1B visas and "high-skilled immigration."
Although Facebook listed immigration on just two of its lobbying forms last quarter, the company was the third most prolific on the issue of the six companies we analyzed, with 65 lobbying efforts reported since 2008. CEO Mark Zuckerberg made news when he posted a status update challenging Trump's travel ban in January, and one of the company's two efforts on immigration last quarter reference the ban, as well as H-1B issues.
Julie Samuels, executive director at Tech:NYC, said the latest lobbying reports reinforce that the tech industry's interest in immigration reform goes beyond the bottom line. "It's not simply a financial decision," she said. "No one calls out the oil and gas CEOs, or the CEOs of the big telcos. There are different expectations of tech. We expect more of our tech companies."