Apple essentially just took back a portion of the massive stock grant it awarded to Tim Cook when he took over as chief executive. How much of a pay cut he receives will depend on Apple's stock performance over the next eight years.
The change was disclosed in a filing late in the afternoon on the first day of summer, with the company likely hoping to avoid much attention. It said that up to a quarter of the 1 million shares Apple promised to Cook in August 2011 could be clawed back if Apple shares lag behind the S&P 500 stock index in the future.
That was certainly the case over the past year: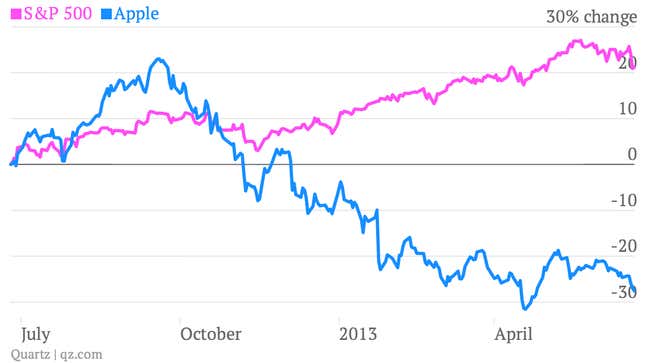 Cook's new pay package is notable for at least three reasons:
It's a demerit. Apple's 41% slide from its peak last fall has made its CEO more vulnerable. Any sort of downward adjustment in pay would have seemed impossible when the stock was flying high.
Activists are in charge. Apple said it was moving to performance-based stock awards, which will apply to all executives going forward, after discussions "discussions this year with many of our largest shareholders."
Apple is normal. After years of torrid growth, the company now looks more like, well, Microsoft. It's a stock you might hold onto on the expectation of long-term growth rather than quick run-ups in price. And it's a so-called "value stock" now that Apple is paying the world's largest dividend.
In fact, the structure of Cook's performance incentive also reflects the new reality of Apple stock. His stock grants will be based on a comparison with the entire S&P 500 rather than just comparing Apple with similar firms, which is usually how performance pay is set at technology companies. And the metric with which Apple will be compared is not stock price but "total shareholder return," which includes dividends and is typically used to assess value stocks.
One could argue that Cook is getting away easy here: He won't really have to pay for the decline in Apple shares over the past year because most of his stock grants will be based on performance going forward. The award of 1 million shares, to be paid over time as long as Cook remains with the company, was originally valued at $376 million and is now worth $413 million. He'll get along just fine whether he receives all of the award or, in the worst cases scenario, 75% of it.
But in another sense, this change to his pay package is Cook's penance for Apple becoming just another big company with a growth problem.