Slack, the messaging platform that's taken over the lives of office workers, is about to become even more distracting. Feeld, a dating app originally created for threesomes, has created "Feeld for Slack"—a bot that allows employees to share who they have a crush on. The app does not constitute a partnership, official relationship, or endorsement from Slack.
If you're thinking, Hey, this sounds like an idea that could easily go awry, you're not alone.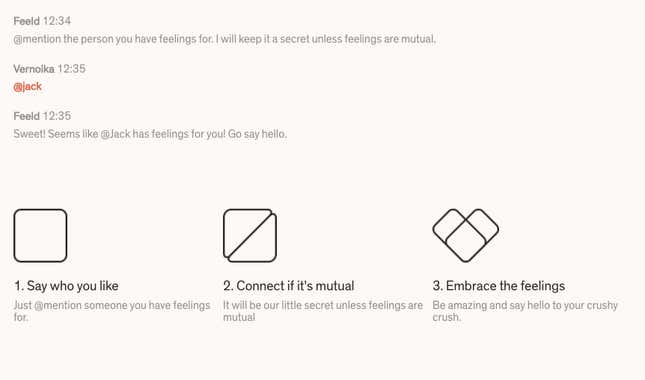 To use the bot, a designated administrator at a company must first choose to install the app. But once it's downloaded, anyone on your Slack team can direct message @Feeld and enter the name of their crush. If the feeling is mutual, both of you get a notification; if not, no one's the wiser.
Slack has not released a statement on Feeld for Slack. But according to the tagline on Feeld's Slackbot promo page, the bot is all about "embracing feelings." There's just one problem—do companies really want to encourage employees to embrace their feelings for each other?
It's one thing to acknowledge that workplace romances sometimes happen. (My own parents met at work.) But it's quite another for a company to actively seek to facilitate them. Recent news has plenty of examples of workplace cultures that have gotten in big trouble for veering into inappropriate, sexualized territory. Miki Agrawal, co-founder and former CEO of the period-underwear company Thinx, faces allegations of sexual harassment, including breast-groping, commenting on her employees' bodis, and uncomfortable over-sharing. Sexual harassment scandals at Fox News have led to the ousters of host Bill O'Reilly and former CEO Roger Ailes. Uber, too, has been rocked by allegations of sexual harassment, with former engineer Susan Fowler claiming that her manager had propositioned her via chat message. The list goes on.
Employees who share romantic interest in one another should be able to, as Feeld suggests, "embrace feelings" in appropriate, respectful, and consensual ways outside of the office. But when a dating app exists on what is essentially a workplace platform, any employers that deign to use it are sexualizing what is supposed to be a safe, professional space. That's sure to make many employees uncomfortable, even if they opt out.
An earlier version of this story incorrectly suggested that the Feeld service was part of an official partnership with Slack, rather than Feeld's use of Slack's open platform.