Surrounded by darkness, illuminated by a single spotlight, CEO Satya Nadella somberly opened a Microsoft press event in New York today. "I'm here today as a heretic," Nadella said, arguing that technology is not the solution to problems, but the facilitator for the answers. He spoke about how his grandfather used the limited educational opportunities he was given to lift his family out of poverty, and that opening up education to everyone was one of his life's passions. Later in the event, Panos Panay, Microsoft's head of devices, unveiled a new $1,000 laptop that has "buttery" keys and a fabric finish that's meant to "invite you in."
As Nadella's introduction suggested, Microsoft's event was focused on education. The software giant unveiled a new version of its Windows 10 operating system, called Windows 10 S, that's meant to be designed with students and teachers in mind. The software can be controlled centrally by a school district's IT department, to see how students are using their computers, and to keep them from downloading applications they aren't supposed to. It also has collaborative tools like Teams, which act as a central repository for information and discussion on classes—rather like a Slack program for education—and new modes of programs like PowerPoint that let students create 3D renderings inside their presentations.
There were many programs and applications demonstrated to show what Microsoft could bring to classrooms—you could program robots or build Martian habitats in Minecraft, all from Surface tablets that administrators can keep a watchful eye over. But the real star of the event, the thing that most reporters flocked to for a hands-on demonstration after the presentation, was Microsoft's new computer, the Surface Laptop.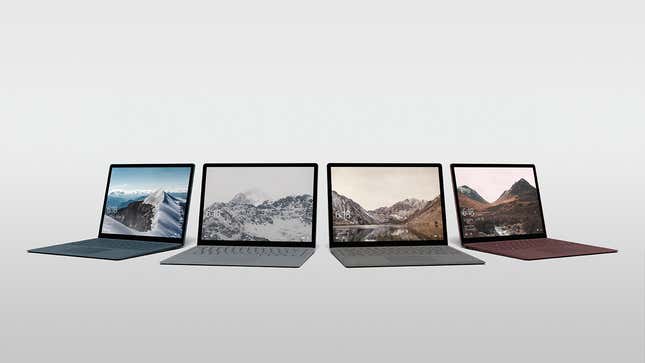 Panay pitted the new laptop directly against competing Apple products—calling out the MacBook Air and Pro onstage—saying that it has superior battery life (over 14 hours on a single charge), a thinner body, and more power. The laptop, which has a touchscreen, is intended for college students, to last them all four years of their education, Panay explained onstage.
The laptop will come in two customizable variations; one with an Intel Core i5 processor, 4 GB of memory, and a 128 GB hard drive, and one with an Intel Core i7 processor, 8 GB of memory, and a 256 GB hard drive. The less expensive models will come in four colors—maroon, grey, gold, and cobalt-blue—and the more expensive models, which start at $1,600 and run up to $2,200, will only come in grey. The cheap versions start at $1,000.
The Surface Laptop will ship with Windows 10 S, Microsoft confirmed on its website, an operating system designed to run on machines as cheap as $189. Much of the demonstrations of the flexibility and utility of Windows 10 S onstage seemed to be focused on primary education (a seventh-grade teacher showed off lesson plans after the event in the hands-on area), so shipping a computer that starts at $1,000 with an operating system that's designed to run on much less expensive machines, seems like an odd choice. Why not use Microsoft's Windows 10 Pro, the full operating system that runs on machines of similar capability? If students are choosing between a MacBook and Microsoft's offering, would they choose the one with a hamstrung operating system?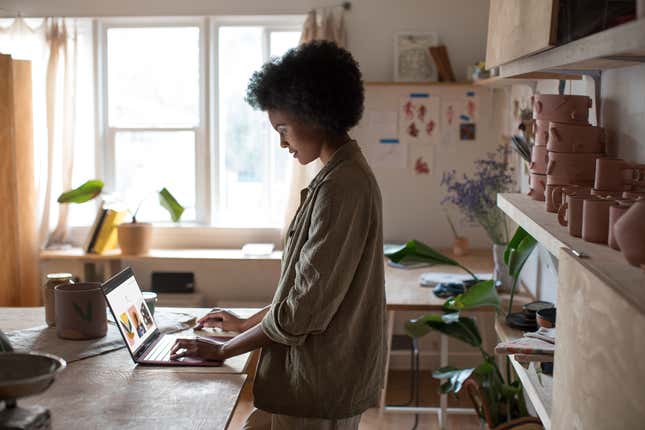 But for a company that traditionally designed only software and started making computers relatively recently, it seems odd that Microsoft's way of selling the laptop to college kids is hinging on the hardware, rather than the software. "We want students to feel proud when they pull this out of their bag," Panay said onstage, presumably searching for some of that conspicuous consumption that Apple products tend to engender.
Hua Wang, a designer of the Surface Laptop, told Quartz that the team gave a lot of consideration to small details. He showed me a cobalt-blue model where all the materials of the device—the anodized aluminum, the touch pad, the plastic keys, the fabric body, and even the metals inside the ports—had all been color-matched to give a sense of uniformity across the device. Design-wise, "everything's super quiet," Wang said.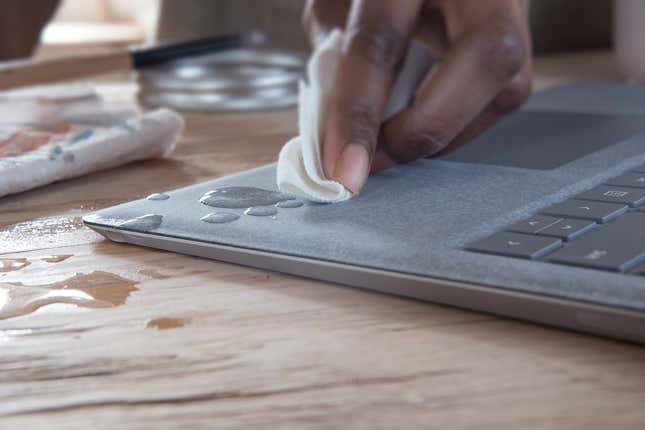 Wang added that the laptop has the plastic-coated fabric on the area around the keyboard—what Panay said was imported from Italy—so that the computer is comfortable to type on, unlike the cold metal most laptops are made of these days. The fabric, which feels far less soft than it looks, also acts as a protector for the screen when the laptop is closed. "When we designed the product, we believed that every material must have a function," Wang said.
Whether inviting fabric and buttery keyboards will be enough to sway college-bound kids away from MacBooks, or how a premium laptop will help democratize education for those in the world without internet access, remains to be seen.