It's been rumored that rock musician Neil Young has sought out every last unit of a Fender amplifier model, called the Tweed Deluxe, that the company built in 1958 and '59. He's been using the amps onstage for the majority of his career, and built a convoluted device he calls "The Whizzer" to mechanically move the knobs on the amp from a foot pedal in front of him while he's onstage. At some point, he will run out of ancient amps to buy, or the vacuum tubes that control them. But the next generation of crotchety rock musicians won't have to worry.
Today Fender announced the latest version in its best-selling line of guitar amps, the Mustang GT. While the company has released myriad amps that have the ability to simulate the sounds of other amps and effects pedals, and other technological wizardry meant to delight beginners and professionals alike, the new Mustangs are unlike any amp Fender has previously released in its 71-year history. They're the first amps, as Fender's head of digital technology Ethan Kaplan told Quartz, that are "going to get better over time."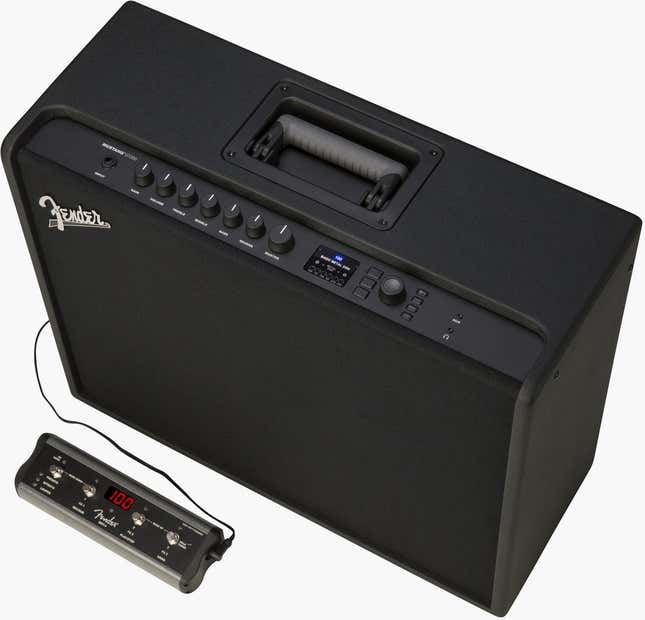 Like the promise of the sleek, expensive electric vehicles that Elon Musk has been selling at Tesla, Fender's new amps would mean that stubborn musicians like Young wouldn't have to search over and over again for a new analog amp every time it gets beaten up on stage, in order to meet their exacting standards. The new Mustangs are built around an ARM computer processor system, and can use Bluetooth and wifi to connect to the internet, receiving new presets, hardware updates, and features whenever Fender has updates.
"If we release a new amp, we can do a simulation of it on this amp," Kaplan said. The Mustang models come in three sizes, ranging from a small $250 tabletop practice amp, up to a $600 model that can fill a venue with sound. In testing out the Mustang, Kaplan said the team created simulations that the average player would be "hard pressed to tell apart" from the amps they were copying the tone of. And for any new models of amplifiers, or guitar pedals, or any other ideas his team has for the Mustangs, they can just push those over wifi right to the amp. "We never want to run out of things to offer a player," he added.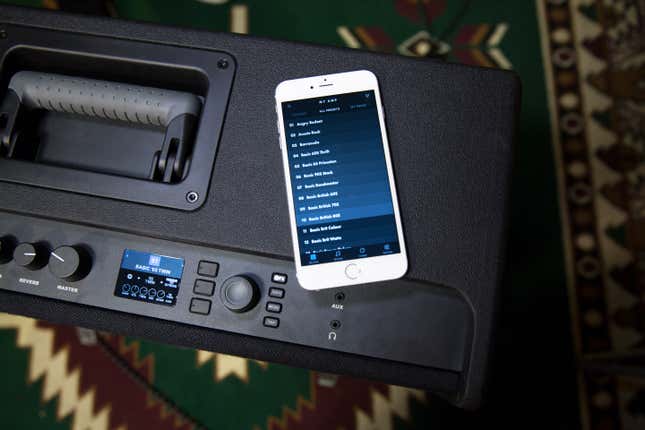 Along with the new amps, Fender introduced a companion app, called Fender Tone. It serves as a hub where users can select pre-designed effects or design their own to use on their amp. Any effect—such as reverb, delay, chorus, or compression, to name a few—can be tweaked and modified exactly as they want, and then ported to the amp over Bluetooth. There are other systems that offer similar technology—IK Multimedia produces a device called the iRig that lets users hook a mobile device up between a guitar and an amp to mimic the sound of other amps and effects pedals, but most of the features require paying additional fees to unlock software and tethers the player to a complicated set of wires. Fender's wireless solution is considerably more graceful.
Players can also design setlists in the Tone app—if they're playing a show and want to use a range of different effects during the show, they can load up presets onto the amp, instead of fiddling with a litany of pedals while they're playing.
Users will be able to upload and share the sounds they've created in the Tone app on Fender's Tone community website, as well as download presets that others have made. They can either download them to their Tone app, or if their amp is connected to wifi, send it directly to the amp. Fender has also been taking the Mustang to celebrity musicians—including Grimes, Gary Clark Jr., and Josh Adam Klinghoffer of the Red Hot Chili Peppers—and has gotten them to create versions of their setups that users can download.
The amp doubles as a Bluetooth speaker, so users can also open a streaming app and have their favorite song play through the amp, and strum along. If it's by one of the celebrities Fender has been working with, or perhaps someone in the Tone community has managed to mimic the sound, the sounds coming out of the Mustang will presumably be pitch-perfect.
The amp also continues Fender's recent push into aesthetics—both the Mustangs and its recent Acoustic Pro amp look worlds away from the silver or tweed-covered boxes the company has been producing for decades. Kaplan said the Mustang would look as appropriate left out in the living room as it would onstage, especially if it's being used as a Bluetooth speaker. The design push, the emphasis on digital technology working in concert with traditional hardware, the forming of an online community of Fender fans—all of these speak toward bringing the guitar business into the 21st century—much as Musk is trying to do with the automotive industry—at a time when electric guitar sales are plummeting, and guitar music isn't topping the charts like it once was.
"The industry's challenge—or opportunity—is getting people to commit for life," Fender CEO Andy Mooney told Bloomberg in November. "A pretty big milestone for someone adopting any form of instrument is getting them through the first song."
While this amp and app could help keep kids hooked on guitars over the years, it's just not clear whether there's going to be another generation picking up guitars (or fanatically hoarding amps older than them) like the one currently slipping into retirement.