After weeks of fevered speculation and public bickering, Malaysia's AirAsia and Japan's All Nippon Airways have decided to terminate their low-cost venture, AirAsia Japan.
There's a bit of bickering, too, about why it didn't work. AirAsia said differences over how to manage costs and where to base operations led to the breakup. The two partners couldn't "agree on the right people to manage the business," AirAsia CEO Tony Fernandes told Bloomberg. For its part, ANA said cheap fares weren't enough to win over Japanese customers and blamed a badly designed website and poor customer service. ANA, which will buy out AirAsia's 33% stake for ¥2.45 billion ($25.1 million), will continue to operate the brand till October.
Part of the airline's woes might be blamed on the fact that Japan is a difficult market. AirAsia Japan had set itself an ambitious target of 80% "passenger load" (i.e., seats filled). The industry average in Japan is a mere 55.3%. In April, the carrier filled just 56.4% of its seats.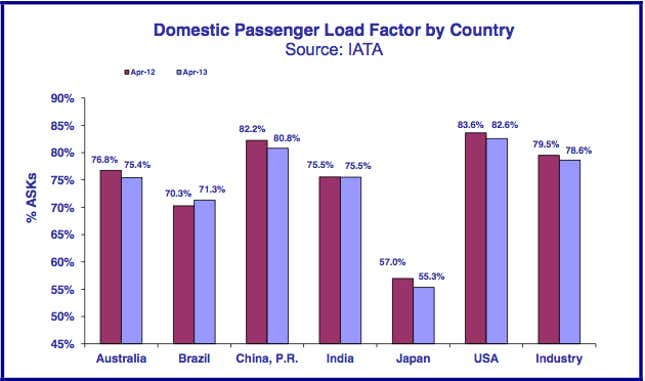 High costs of ground handling services and other airport charges also made it difficult to keep costs down. The decision by AirAsia Japan to set up its operating base at the new Narita airport, which is about 40 miles (64 km) from Tokyo and is not yet open 24 hours a day, didn't help either. The airline posted losses of 97 million Malaysian ringgit ($31 million) in 2012 and 67 million ringgit in the first quarter of 2013.
But at least part of the problem was also that AirAsia Japan, which began operations last August, has been playing catch-up with two other budget airlines born in 2012—Peach Aviation, also part-owned by the ANA group, and Jetstar Japan, owned by Japan Airlines and Qantas. And on passenger loads at least, these rivals have managed to beat the industry average. During the recently concluded Golden Week holiday, a prime time for air travel, AirAsia Japan still managed to fill only 67.6% of its seats. Peach filled 91.3%, and Jetstar managed 78.8%.
Despite the struggles, Fernandes is not ready to give up on Japan, saying that he believes "there is tremendous opportunity for a low-cost carrier to succeed." It's true that low-cost carriers account for just 5% of the departures and less than 20% of the seats in Japan—considerably less than in most developed markets like Britain and the US. The question, though, isn't really whether a low-cost carrier can succeed—it's whether three of them can.