In its quarterly earnings report yesterday, Barnes & Noble announced that it would stop manufacturing its line of Nook e-readers in-house.  Instead, it will farm out the production of new tablets to third parties, which it will maintain through branded content deals. In reality, B&N should go further, relinquishing just about any pretense at hardware and focusing on translating what it does best in the print space to the digital space: books.
B&N's Nook business is unquestionably deteriorating as cheaper tablets from manufacturers like Apple and Samsung have become more popular. Revenues from that division fell 34% in the most recent quarter from a year ago. But there's hope for digital book sales; revenues there rose 16% in B&N's 2013 fiscal year, which concluded with the last quarter.
Even if B&N ditched the Nook entirely, it still offers more e-books than any of its competitors (more than three million, compared with "over a million" titles on Amazon's Kindle), and it has consistently produced some of the best-rated software for reading books. Despite Amazon's success in the last few years, B&N has carved out about 25% of the e-book market, and a higher market share in the number of digital magazines sold.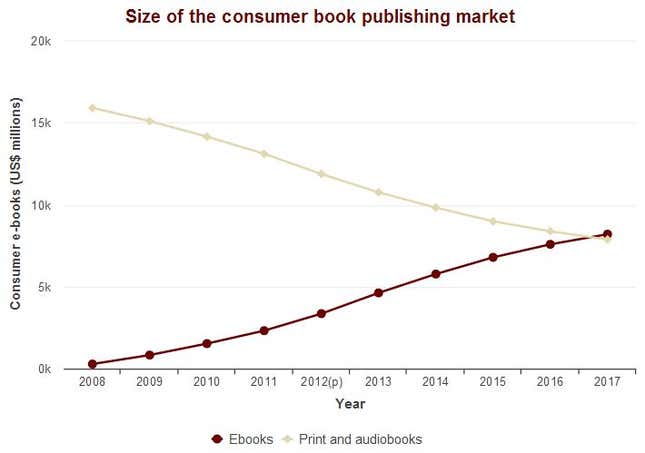 Nook's software is already available on Android, iPhone, iPad, Windows and Blackberry. It's also pre-loaded on non-traditional devices like nabi tablets and E FUN Android Nextbook tablets. Its software also handles multiple kinds of reading documents, like PDFs and ePub files.
And the growing size of the digital book market makes it an attractive place to be, especially without the brutal competitive pressures of the hardware business. PricewaterhouseCoopers projects that the US digital consumer book publishing market will exceed the size of the print book publishing market by 2017. In 2012, the market was already $3.35 billion. There is even more growth to be found in the developing world, where smartphones and tablets will dominate—yet another reason for B&N to stick to having its software on every platform imaginable, rather than trying to make money selling flashy hardware.
It makes some sense for the company to maintain a relationship with a partner who can produce hardware dedicated to running Nook software, but only for its most basic devices at the cheapest price points. The company said in its earnings call yesterday that its best digital book customers are readers on its most basic tablets, those who aren't interested in the bells and whistles of a more advanced tablet device.
Digital book sales certainly won't be immune from competition—Amazon is pursuing a multi-platform strategy even as it aggressively sells Kindle devices. But if Barnes & Noble can become the go-to app for reading on any device, then the company has a real chance at survival, even after the brick-and-mortar stores where it made its reputation are a distant memory.