The job description of the modern Chief Financial Officer is rapidly evolving. While CFOs' primary responsibilities still hinge upon critical tasks, such as accurate financial reporting to stakeholders, economic strategy and forecasting, and determining appropriate capital structure, today's finance leaders must add yet another item to their list of duties: risk management.
In fact, 57% of finance leaders believe risk management will be a "critical capability" in the years ahead. Risk management, identifying and proactively addressing threats to business strategy, demands unique skill sets of the finance function: It requires financial chiefs to complete routine tasks while also keeping one eye on the revolving door of technology trends, security threats, and regulatory hurdles.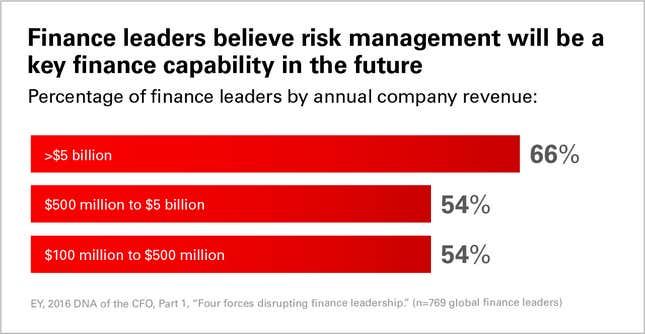 Risks from multiple angles
In today's ever-evolving business environment, risks abound. Cutting-edge technologies, a job-hopper economy, and increased globalization present unique obstacles for finance chiefs and IT teams. What's more, regulators increasingly hold individuals accountable for oversights, regardless of whether or not an error is a direct result of CFO mismanagement. This means that today's high-level finance professionals not only have an obligation to their respective companies to take risk-mitigating measures, but their personal repute is also at stake—and legal repercussions are imminent for neglectful CFOs.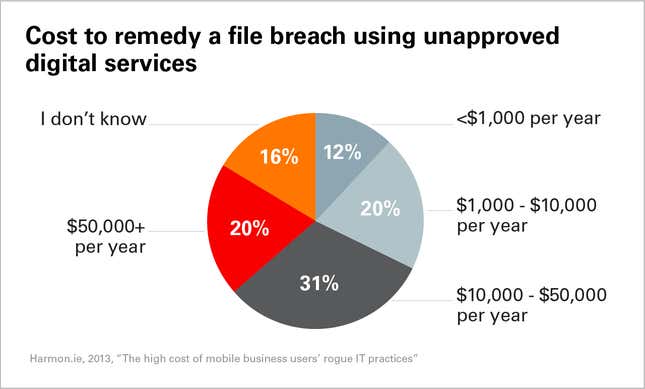 The inexorable tread of new technologies into the workplace makes it easier than ever to do business at lightning speed. But new technologies beget new hurdles, such as a lack of cybersecurity education and an environment in which the IT team is constantly scrambling to keep up with software updates and preventative steps. In KPMG's 2016 Global CEO Outlook survey, cybersecurity was named the number one risk beleaguering the C-Suite—and yet, 72% of CEO respondents said they were not fully prepared for a harmful cyber incident.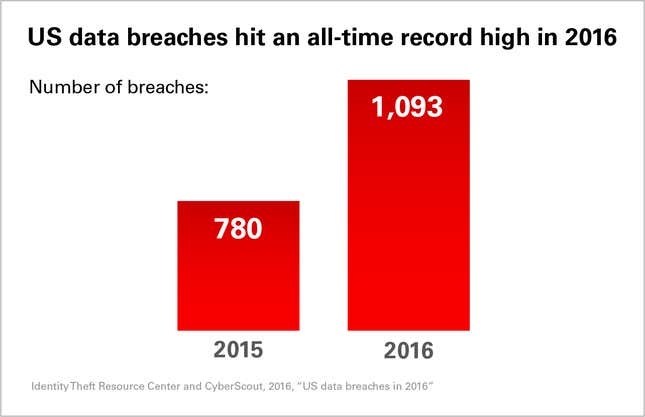 Businesses today often accumulate huge volumes of data, which practically beg for high-profile breaches that can decimate a company's public reputation and financial stability. The skills gap presents another challenge: An untrained employee is far more likely to engage in risky behavior that will put an organization's sensitive data in peril. Almost a quarter of security breaches are the result of employee mistakes or actions.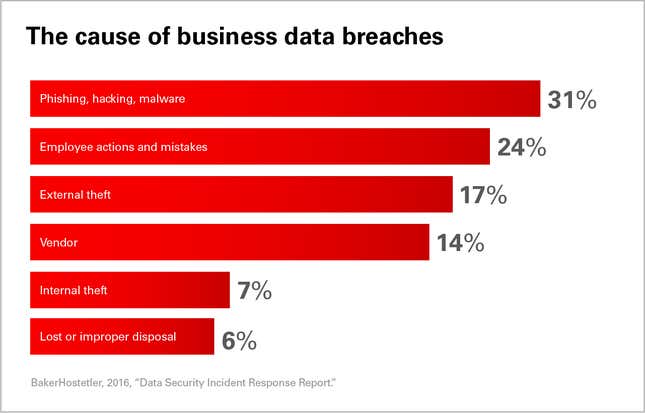 Education plays a crucial role in helping to close the skills gap and prevent rogue IT measures that breach sensitive financial information: Training programs keep employees apprised of the preventative measures they must master in order to navigate corporate technology as safely as possible. Proactively educating the entire finance team about the impact of cyber incidents can help mitigate tech-savvy employees from resorting to their own, makeshift IT solutions.
The right tools can also help CFOs monitor their organization's compliance on a company-wide scale. Oracle Cloud for Finance, for example, provides CFOs with a slew of helpful innovations that make real-time financial reporting accurate, adaptable, and analytics-driven. The solution enables CFOs to confidently control risk and compliance programs, quickly detect potential process and control issues, and provide line-of-business leaders with strategic risk insights. Since the cloud-based solution works seamlessly across multiple devices, it's also accessible—securely—from practically anywhere.
Crucially, Oracle Cloud for Finance can alert CFOs to anything amiss in their organization's comprehensive financial picture—long before the risks manifest as full-fledged crises.
In today's complex business world, CFOs need the right tools in their risk-management arsenal.
about how Oracle Cloud for Finance can help finance professionals navigate the risky business inherent in their corporate responsibilities.
This article was produced on behalf of Oracle by Quartz Creative and not by the Quartz editorial staff.