Nearly a year after the Brexit vote, the UK economy is doing better than expected. The economic calamity that some feared never came to pass. Phew!
Not so fast. The Institute of International Finance (IIF), a trade group that counts the world's biggest banks as members, says the worst is yet to come. Economists at the association forecast that the UK economy will grind to a halt next year, registering precisely 0% GDP growth in 2018.
Already, the UK economy's apparent resilience following the Brexit vote has started to break down. Consumer spending—the biggest part of the UK economy—has taken a sharp dive as Brexit-induced inflation cuts into people's incomes. GDP growth for the first quarter of 2017 came in at just 0.3% versus the previous quarter, far lower than expected among economists.
Economists at the IIF said the drivers of UK growth to date—higher wages, rising house prices, and strong credit growth—are losing steam. Inflation-adjusted wage growth turned negative earlier this year, house prices are decelerating (especially in London), and consumers are borrowing less.
What's more, Brexit is no longer an abstract concept. Negotiations with the EU have begun, and they are off to a rough start. Bad-tempered talks are likely to discourage business investment, the economists said, and banks are already making plans to relocate out of London. Even though exporters will benefit from the weaker pound and continued access to the EU in the final years of the UK's membership in the bloc, the IIF still believes the UK as a whole won't manage any growth next year.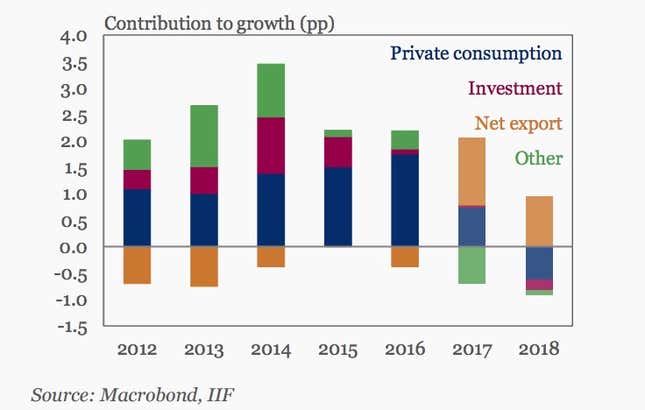 The IIF are bucking the trend among forecasts. After predicting scary pre-Brexit scenarios that failed to materialize, other institutions now expect a rosier economic future. The Bank of England forecasts 1.6% GDP growth in 2018 and the IMF predicts 1.5% growth.
This is the IIF's first UK forecast for 2018. In December, it figured growth would be 0% in 2017, but have now raised this to 1.4%. The big upgrade this year is thanks to better growth in 2016 and less of a shock following the pound's decline than originally expected.
So, there are some obvious (upside) risks to this forecast. But if things turn out anything as gloomy as predicted, it will come at a particularly awkward time, as the UK approaches the deadline for a deal on Brexit negotiations in early 2019. A sharp economic downturn like the one the IIF envisions would shake the confidence of Brits who currently believe, with some justification, that Brexit isn't something to worry about.