James Comey, who served as director of the US Federal Bureau of Investigation since September of 2013, was fired by president Donald Trump today (May 9). A target of both Republican and Democratic criticism over the past year, Comey's firing was still treated as a surprise in Washington DC.
"Today, president Donald J. Trump informed FBI director James Comey that he has been terminated and removed from office," White House press secretary Sean Spicer said in a statement. Spicer noted Trump was acting on the recommendations of both deputy attorney general Rod Rosenstein and attorney general Jeff Sessions. A search for a new permanent FBI Director will begin immediately.
In a letter to Comey that was made public by the White House, Trump wrote, in part: "While I greatly appreciate you informing me, on three separate occasions, that I am not under investigation, I nevertheless concur with the judgment of the Department of Justice that you are not able to effectively lead the Bureau."
It is "essential that we find new leadership for the FBI that restores public trust and confidence in its vital law enforcement mission," Trump continued, before wishing Comey well in his future endeavors.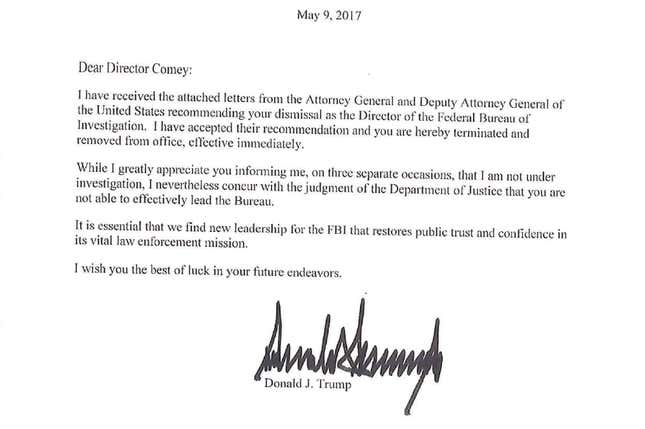 The move was immediately cheered by some Republican Congressmen, including senator Lindsay Graham:
Last July, Comey publicly announced that presidential candidate Hillary Clinton did not break the law when she used a private email server as secretary of state. Comey's statement was overstepping his job description, according to Republican critics. In October, he sent a letter to Congress saying his agency was investigating new evidence regarding those emails, which some Democrats think may have cost Clinton the election.
The FBI is currently investigating whether Russia unduly influenced the 2016 presidential election results. Comey's abrupt firing comes less than 24 hours after ProPublica reported that his testimony to Congress regarding the FBI investigation into Clinton's emails was false.
On Thursday, Comey was scheduled to testify in front of the Senate Intelligence Committee in relation to the Senate's own investigation into Russian interference in the US election.