In China, promises by the communist party leadership to end corruption have come pretty cheaply. But here's one latest hint the new leadership's promises could mean something: at least in appearance, the leadership is pulling back the curtain on the party's historically secret policymaking.
After a special three-day meeting among China's 25-member politburo, state media reported on the content of the meeting, along with excerpts of comments made by Xi Jinping. The focus of the meeting, according to the People's Daily, was how to maintain the ideological purity of the party. As Russel Leigh Moses, dean of academics and faculty at the Beijing Center for Chinese Studies, points out (paywall), it's rare for Politburo meetings to be described in such detail and so openly. State media footage shows Xi and his top officials around a table, in simple buttoned-up dress shirts without ties, talking in turn. Most portrayals of China's top leadership are scripted and extremely formal, (though lately Xi has been dressing down in public appearances.)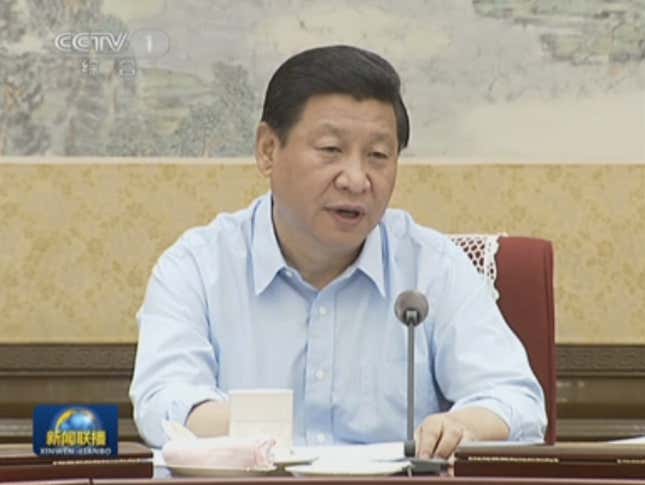 In the meeting, Xi has also pointedly criticized his top cadres. Party elites are usually afforded immunity from corruption scandals. "Politburo comrades must… reject any selfishness…adhere to self-respect, self-examination, and abide by party discipline." He called on them serve as examples for the whole of China's sprawling party bureaucracy. He also asked them to manage their relatives and staff, a nod to cases such as former premier Wen Jiabao, whose family has been accused of building a fortune based on his connections.
Several of Xi's predecessors promised to overhaul government graft but in the end did little. For his part, Xi has said that his anti-graft efforts will target both lower and higher level officials—in his words, the tigers and flies. A few top officials have already lost their positions. The motivating factor will be whether Xi believes his party's existence is actually under threat. He said in his speech, "As long as the Politburo always and everywhere sets an example, they can continue to call the shots."