Tesla is now accepting orders for its new solar roofs that it estimates will earn money for customers over the lifetime of their house. How much? The company's new calculator uses Google Project Sunroof to estimate the value of each home's potential solar energy, and translates that into energy savings. A $67,000 solar roof in Baltimore, for example, could earn back more than $15,000 over three decades.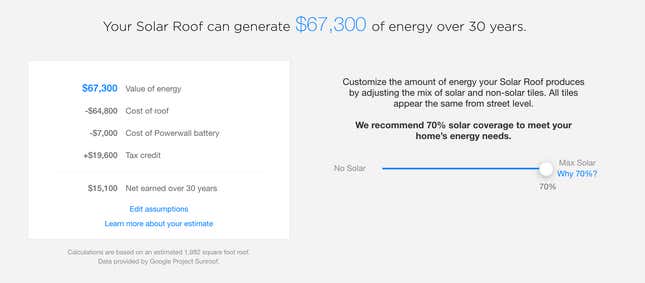 The company began taking Solar Roof orders May 10 to install tiles embedded with photovoltaic cells. They're part of the company's strategy to sell an integrated suite of products—cars, batteries, solar panels—that will power homes and businesses with renewable energy. Customers can secure a place in the order list with payments of $1,000.
The calculator combines the cost of a new roof, any additional Powerwall batteries, solar energy generated, tax credits, and utility bill savings to give a final estimate. Tesla says it's aiming for a seamless sales experience similar to buying the company's electric cars: Users can shop online, make a selection and have their orders delivered without haggling. Tesla's acquisition of SolarCity last year allows it to scale solar installations nationwide.
Tesla's pitch is aesthetics and a dose of economics. "The problem with solar roofs is they all look awful," said Tesla CEO Elon Musk in a May 10 press call. "That's why they didn't succeed. This is the opposite. It looks better than normal. It will last longer."
The company offers a warranty for "infinity, or the lifetime of your house, whichever comes first." It calculates cost savings using the average cost of electricity in your region, plus any additional tax credits. Taking all that into account reduces the cost of a new roof to close to that of a conventional roof, assuming it lasts 30 years. As the upfront cost may be rolled into existing mortgages, Musk argues that homeowners will see the net value of their homes increase, and reap thousands of dollars in savings over the long run (30 years in their calculations).  Tesla priced the Solar Roof at $21.85 per square foot.  "This is a better product at a slightly better price," said Musk.
Telsa's roof tiles use a tempered glass and proprietary solar cells manufactured through a partnership with Panasonic. The tiles are now available in grey smooth glass and black textured glass, and slate glass and Tuscan glass will arrive in 2018.