Android is now running on 2 billion devices. That leaves billions more for Google to potentially reach in coming years. But it's not going to do it with today's Android operating system designed for premium devices in the US and Europe.
To serve the "next billion," Google is releasing Android Go, a light-weight OS designed to run on devices with less than 1 GB of memory. It will help bring the price of hardware within reach of more people in India, Indonesia, Africa, and developing regions beginning to embrace affordable smartphones.
The release continues years of streamlining efforts by Google, including its Android One initiative, which was launched in 2014 to deliver cheap low-end devices compared to traditional smartphones, and tailoring its software to these these devices such as Android's version 4.4 KitKat release. "The time is right to take the investment to the next level," said Sameer Samat, a Google executive leading Android and Play efforts, at the Google I/O developer conference.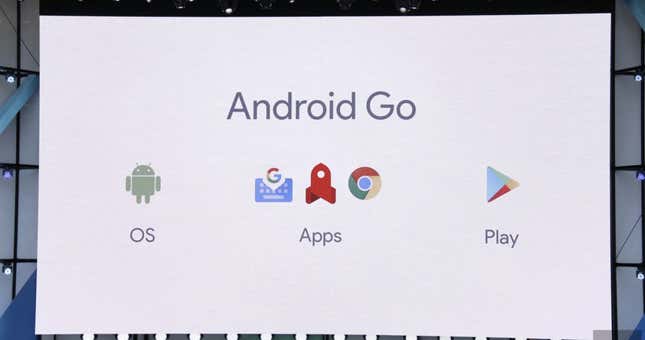 While smartphone penetration is about 80% in places such as the US, it stands at less than 30% in India. Google is refining Android to capture the growing number of people in countries just now joining the ranks of smartphone owners, and the operating system is already far in the lead: about nine out of every 10 smartphones shipped globally run on Android, and it stands to add billions more.
Google's "Go" configuration will keep a careful eye on data and power usage, and display it for users who can manage it closely. One user, Samat said in the product presentation, told him that "mobile data feels more like currency." Go will display clear data usage patterns and the ability to "top up" from within the app.
Developers are also being encouraged to build apps through Google's "Building for Billions" initiative. YouTube Go (a beta was released in India earlier this year) has been tailored to meet demands from these growing markets: previews of videos can be browsed before streaming, and the app will display the exact amount of data needed to download (in high or low resolution). Videos can be downloaded on wifi for later viewing, and shared with friends through peer-to-peer sharing. The light-weight apps will have their own section in the Play app store.
Android Go ships with all new versions of Android phones and serves as the default setting for all Android devices with 1GB or less of RAM. As part of this, the company will ship new "lite" versions of its apps, Play store, and OS with the release of Android O. The first devices are expected to ship in 2018.