It was meant to follow the tried-and-tested Singaporean script of life: A young Singaporean couple applies for their first state-subsidized apartment together, they work and save money in the intervening years, and they get married shortly before picking up the house keys. But there was a twist in the story: The husband in the couple was transgender, and transitioned to female during this process. And Singapore's famous efficiency quickly broke down.
While Singapore does recognize transgender people, it does not recognize same-sex marriage. However, the law governing marriages, called the Women's Charter, states only that marriages that did not take place between a man and a woman "at the date of the marriage" are void.
FK and BS (initials have been used instead of full names to protect the couple's privacy) applied to get married in 2015, after they'd been together for eight years. At that point, FK's identity card still listed her sex as "male." A lawyer they consulted suggested they were within their rights to marry.
About a month before they were due to solemnize their marriage, officers at the government's Registry of Marriages expressed concern over FK's name. Although she had not undergone gender-affirming surgery nor changed the gender on her ID card, she had formally changed her name.
FK explained her situation to the agency. After some discussion, the officers asked her to sign a document declaring that she would not undergo surgery before the date of her marriage, and requested that she dress in a more masculine fashion on the big day. FK complied, and the couple were married in October 2015.
"I was actually happy that they [made me sign the declaration] because that meant they knew what was going on… They clearly thought it through when they decided to make me sign the declaration form stating I wouldn't go for surgery before the marriage," said FK. "And I interpreted that as a sort of, 'OK, whatever happens after the marriage is none of our business.' Otherwise, why would they make me sign it?"
FK went for surgery in June the following year, and updated her details in accordance with Singapore's laws allowing transgender people to change the sex stated on their identity cards. (Singapore marriage laws also allow a transgender person to marry someone of the opposite gender from the one they have transitioned to.)
That was the start of the couple's long dance with the city-state's bureaucracy, as different agencies then found themselves parsing whether or not the couple continued to be legally married—and whether they were entitled to a house under laws geared to favor married couples who might start families.
What is a marriage in Singapore?

The couple's troubles began in earnest when they informed Singapore's Housing and Development Board (HDB) of the change in August 2016. According to the HDB's eligibility criteria, the state-subsidized four-room apartment they were expecting to receive after a four-year wait is reserved only for married Singaporeans. Once the agency realized both partners were officially female, a housing board officer told them they couldn't collect the keys to their flat as they weren't entitled to get married.
"I told her, 'But we're already married.' She was shocked. You could tell that they had no idea what to do," FK recalled. "First she said, 'The marriage needs to be valid in Singapore,' because I think she thought we got married overseas. I answered, 'No, it's a marriage by Singapore's Registry of Marriages.' And then she said she needed to get back to us. That's when all the delays started."
They were told to wait for two weeks. Then another two weeks went by. The matter stretched into October of last year. When the couple called the Registry of Marriages in late October, they were told to expect an answer by Nov. 30, 2016. But when that day rolled around, they were told by the housing board that the matter had not been resolved, and that even a time frame could no longer be provided. Singapore's much-touted efficiency had ground to a halt; they were simply asked to wait. And wait. And wait some more.
"As each case is unique and has to be dealt with individually, the time required to consider each application may vary," wrote the HDB in response to Quartz's inquiries.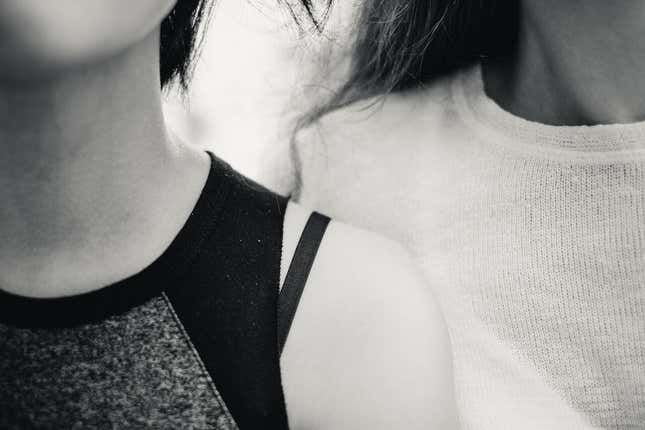 Bureaucratic confusion

When FK paid a visit to the marriage registry in an attempt to seek clarity, she was told by the agency, "We were focusing on whether you guys met the requirements, and clearly, you both did… That's our message to HDB as well: As far as we're concerned, when both of you registered the marriage, you had met all our requirements. Therefore, from there onwards our message to HDB has been, then, it's really their call and their policy."
The lack of a clear precedent in Singaporean case law meant that there was no rule book to follow. "They kept saying they need some time to think about it, they need more time," BS said, referring to the housing board.
"When I asked them, 'Who's in charge?' they were unable to answer. When I asked them for a deadline, they were unable to answer," FK added. "There seems to have been a bit of an internal struggle between the various government agencies. Nobody wanted to be responsible."
The matter continued to drag on, leaving the couple without a home of their own. To make matters worse, FK later discovered that the authorities had acquired the medical certificate detailing her procedures, and taken steps to contact the clinic that carried out the surgery without her consent.
"I just feel like my privacy was completely violated. The matter was not handled sensitively at all," she said.
"Correcting" the register
Finally, on Feb. 10 of this year, they were informed by the marriage registrar that because they "did not intend from the start to live as one man and one woman," the marriage was void. Their entry in the State Marriage Register was thus "corrected accordingly," meaning that it was completely removed, as if they had never been married at all. When contacted by Quartz, the Ministry of Social and Family Development, which has oversight of the registry, offered an expanded definition of marriage from the wording in the Women's Charter.
"Singapore law does not recognize a marriage where both parties are of the same sex. At the point of marriage, a couple must be man and woman, and must want to be and want to remain as man and woman in the marriage," said a ministry representative. When asked why FK was asked to sign a declaration about not undergoing surgery prior to marriage, as well as the pursuit of her personal medical details, the Registry of Marriages (ROM) said it was unable to comment due to confidentiality reasons.
Questions remain over this interpretation of the law. "In my research into family law and validity of marriages, I did not encounter any statutory or regulatory requirement that the couple 'must want to be and want to remain as man and woman in the marriage,'" said Indulekshmi Rajeswari, project leader of a legal guidebook for LGBT couples and families in Singapore. "I would ask that the [ministry] clarify exactly what statute or case law states this, because otherwise it does not form part of the law."
"Along the same veins, I am unable to find the statutory authorization for ROM to be able to unilaterally declare a marriage null and void on this ground, and I would again ask ROM to cite the exact regulation that enables them to do so," she added.
The couple were eventually still given a housing board flat, half the size of the one they had originally wanted. They were allowed to purchase it only under the Singles Scheme, which costs S$15,000 ($10,859) more than it would have been for a married couple.
The entire ordeal has taken a toll on the couple.
"It's a bit of a weird position, because on the one hand I've never been happier with myself. But then on the other hand, what am I dealing with now?" said FK. "I've always been a very big workaholic… now I'm the complete opposite. I can't see myself working anymore, I'm just so demoralized… Every morning I wake up and I ask myself, why should I contribute to this society anymore? You know, if this is how they're going to treat me, why should I bother?"