For an economy to grow, companies, the thinking generally goes, need to spend their money and make investments that will generate jobs. The data show that this isn't happening in the US; in fact, companies seem to be pulling back even further. Politicians blame the opposing party's policies, Wall Street blames persistent financial uncertainty. But there may be a completely different reason US companies aren't spending.
First, the numbers. The latest data from Factset show that non-financial companies in the S&P 500 amassed $30.1 billion more in cash and short-term investments in the first quarter of 2013. That's 2.4% more cash than companies stockpiled last quarter, and pushes their total cash and short-term investment reserves to $1.29 trillion: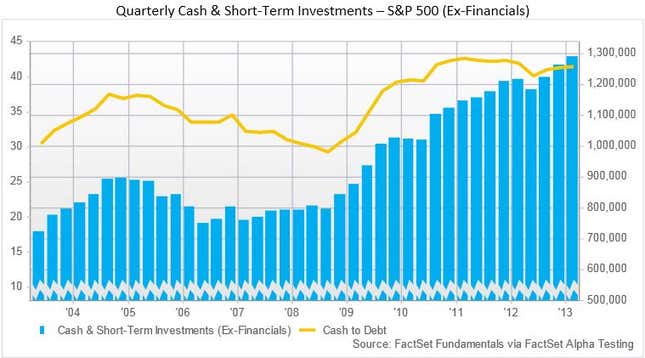 These companies are also spending less than they have in three years. Capital expenditures in the first quarter were just 1.6% higher than in the same quarter of last year, the slowest rate of growth in 3 years. By comparison, capital expenditures have gone up an average of 18.5% year-on-year for the past 11 quarters.
No spending, no jobs, disaster. Clearly, it's time to prepare for the worst. Or is it?
There is an alternative way of thinking about these corporate cash piles, Lombard Street Research's Jamie Dannhauser wrote in a client note this week:
The severity of the financial crisis means US corporate behaviour may be permanently altered. If anything, the secular upward trend in desired cash balances is likely to be strengthened in the years ahead.
The financial crisis was caused by outsized household and banking system debts, but the US corporate sector was actually pretty healthy. Nonetheless, US companies were spooked, and are more likely to keep cash on hand, even if they have no immediate worries about politics and markets.
That's borne out by the results of a Duke University/CFO magazine survey, says Dannhauser. Fewer chief financial officers are concerned about economic uncertainty affecting their business in the next few quarters; a declining number of executives (27%, down from 45% in 2012) was concerned about building up a liquidity buffer to prepare for short-term economic shocks. And yet the percentage willing to deploy company cash isn't rising.
If Dannhauser's right, then what's happening is the opposite of what the Federal Reserve has been trying to achieve. Low interest rates and quantitative easing, by freeing up cash, were supposed to push companies into making new investments, which, in turn, would stimulate job growth. Instead, they're just hoarding more cash.