A long time ago, somewhere in southern California, a bearded young man had a dream of turning old samurai films, Eastern philosophies, and something like Flash Gordon into an operatic adventure set in space. That dream was eventually realized as the seminal science fiction film Star Wars, written and directed by George Lucas, and released on May 25, 1977—40 years ago.
The original $11 million put into filming Star Wars (eventually renamed Star Wars Episode IV: A New Hope years later) is arguably the best investment ever made in Hollywood. Even when adjusted for inflation, the film would've only cost about $45 million in today's dollars, or less than 20% of what the seventh Star Wars film, The Force Awakens, cost to produce in 2015 and far less than the $200 million that this summer's action blockbuster Guardians of the Galaxy Vol. 2 ran.
The original Star Wars film is the third-highest-grossing film of all time, raking in close to $2 billion when adjusted for inflation. That alone would've made the original investment a spectacular one:
Although Gone with the Wind remains the highest-grossing film of all time (when adjusted for inflation over the 78 years since the film's first release), no single film can hold a candle to the money-making empire that Star Wars unleashed. Spurring at least 10 lucrative sequels and prequels, five TV series, and multiple made-for-TV movies (so far), as well as billions of dollars in books and merchandise, Lucas couldn't possibly have imagined just how successful his creation would become over the next 40 years.
In making Star Wars, Lucas pioneered new camera technology, new filming styles, new sound design techniques, and, most importantly, a new way of thinking about science fiction. Unlike the generically clean, shiny, and metallic futurist alien worlds in other sci-fi films at the time like Logan's Run, Lucas's Star Wars universe was lived-in, dusty, and creaking—a lot like our own world. The expanse and detail of Star Wars made Logan's Run look corny and dated by comparison.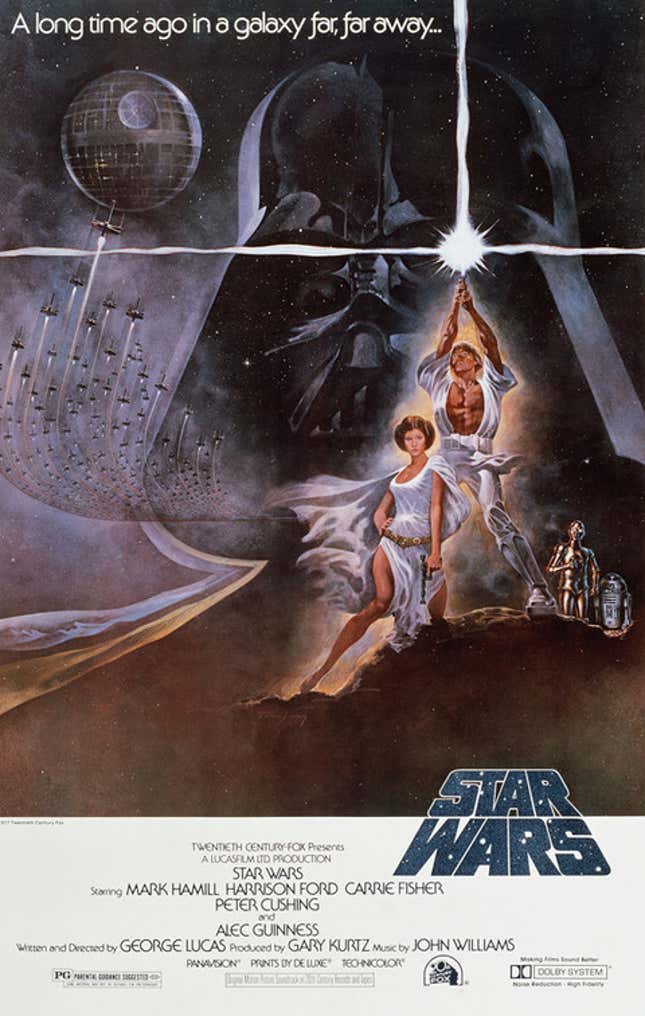 Star Wars stands as a testament not only to Lucas's filmmaking abilities, but also to his film industry innovation. The film itself set the tone for arguably every science-fiction action film that followed (and even prompted Paramount Pictures to cancel plans for a new Star Trek series to pursue a feature-length film). The technical success of Star Wars gave rise to other Lucas creations, including the audio company THX, the visual effects company Industrial Light and Magic (which has done effects on every Star Wars film and hundreds of other films), and the animation giant Pixar—all of which were originally parts of Lucasfilm, the production company Lucas founded to help him realize his artistic vision.
In the intervening decades. Lucas has been criticized for remastering and altering the original Star Wars films to their detriment, and for directing some rather bland, procedural follow-up films. But it's undeniable that Lucas created a universe of grand ideas that will live on long after he and his early fans are dead, exciting and inspiring countless more generations of moviegoers.
Lucasfilm, which also produced the legendary Indiana Jones series, was a private company up until its sale to Disney in 2012 for $4 billion. So it's impossible to glean just how much revenue the company generated on toys and other merchandise prior to its sale. But to put the value of that sale in perspective: Disney paid as much for Lucasfilm as it did for the rights to the entire Marvel superhero universe. And even that lofty price tag was a massive bargain. The two Star Wars films Disney has released since 2012 (The Force Awakens and Rogue One) have together brought in $1.5 billion in ticket sales alone, already recouping almost 40% of the $4 billion Disney spent on the studio.
But the real money for Disney is in leveraging the Star Wars brand for just about anything it can think of: toys, games, merchandise, cruises, theme park rides, hotels. The list is endless and Disney is pursuing them all. There will soon be a Star Wars-themed section of Disneyland and Disney World in California and Florida, where children and adults can spend their days riding Star Wars rides, drinking Star Wars drinks (blue milk, perhaps?), eating Star Wars food, sleeping in Star Wars rooms, and, of course, buying Star Wars swag.
Disney generated nearly $17 billion from its theme parks and resorts in 2016, and over $5 billion on merchandise and licensing. And these figures will climb even higher when the three new Star Wars films are released over the next three years, as people immerse themselves ever further into the expanded universe of Lucas's opus.
And it all started with a little film from 1977, made for a measly $11 million, about a farm boy discovering religion and going to war against an evil space empire.