Who has two thumbs and can pilot a drone? You, probably.
The Spark, a new pint-size drone from Chinese manufacturer DJI, was announced yesterday at an event in New York's Grand Central station. It looks like a shrunken-down sibling of the Mavic Pro, a drone with foldable arms that DJI announced in September. At the time, the Mavic Pro was one of the smallest, most versatile, and affordable high-end drones on the market. With the Spark, DJI has taken things even further with a tiny drone that anyone can control with their hands.
The Spark costs $499 (or $699 with a carrying case, extra batteries, and other goodies), making it the cheapest drone the world's leading drone manufacturer has ever produced. It has pretty much all the features that someone wanting to fly a drone for the first time might want, too—it can take videos in HD, as well as 12-megapixel photos. It can track you as you move, if for instance you want to get some video of you doing a gnarly snowboard trick, or just walking your dog. It can take a range of shots that used to require professional videographers and helicopters, such as track you in circles, or panning in and out from far away. Most importantly, the drone has sensors on its front and bottom that will prevent it from crashing into anyone it flies near, or the ground.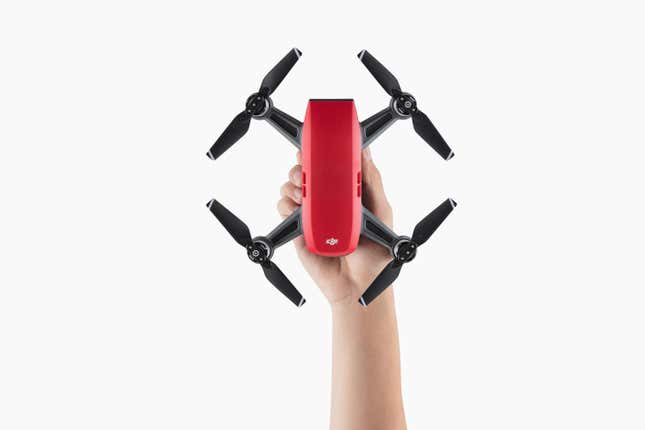 DJI's last few drones have had most of these capabilities, but what sets the Spark apart—aside from its price tag—is how easy it is to fly. Anyone who has been interested in flying drones, but has perhaps been daunted by the often confusing controls (and how dangerous drones that don't have collision-avoidance technology can be in the hands of a novice), might find what they're after with the Spark.
You can fly the drone with a complex controller (which DJI will be releasing soon), but you can also fly it with your smartphone, with controls similar to a videogame, or even just your hands. The sensors on the front of the drone can recognize faces as well as hand gestures: If you put you palm out toward the drone, it'll register it, and you can then move it around by waving your arm left or right, or up and down. You can do other gestures, such as a director framing their shot, and it'll take a photo, or waving your hand, which'll cause it to fly back about 15 feet for a photo. You can raise your arms like you've just scored a touchdown, and the drone will slowly lower itself back toward you, and to turn it off, you can just grab the drone from the bottom.
While all this hand controlling may make anyone flying a Spark feel like the Jedi they perhaps have longed to be for decades, it also sets a new standard of simplicity in piloting drones. Drones are becoming ever-more prevalent, with around 800,000 recreational drones registered in the US in the last 16 months, and yet the average level of flying proficiency doesn't seem to be changing much. Just last week, someone mistakenly slammed a drone into a baseball game in California, nearly missing a spectator.
The Spark comes in white, green, yellow, blue, and red. It's available now from DJI's website, and expected to ship mid-June.