Update: This article was updated to include new footage of Donald Trump shaking hands with Emmanuel Macron.
While in the United States, president Donald Trump notoriously shakes people's hands to the point where he's almost twisting their arms out of the sockets, often leading to comically awkward scenes during photo-ops with heads of states or politicians. But during his first overseas trip as president, Trump seems to be losing at his own game.
When Trump met Emmanuel Macron today in Brussels, the newly elected French president grabbed his hand hard—and wouldn't let go before Trump did. Press images show Trump leaning away and attempting twice to free himself from Macron's death grip. His neck appears stiff and his lips pressed to a thin line.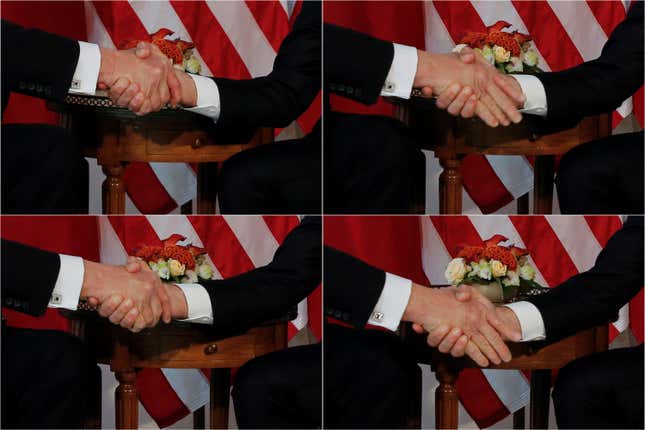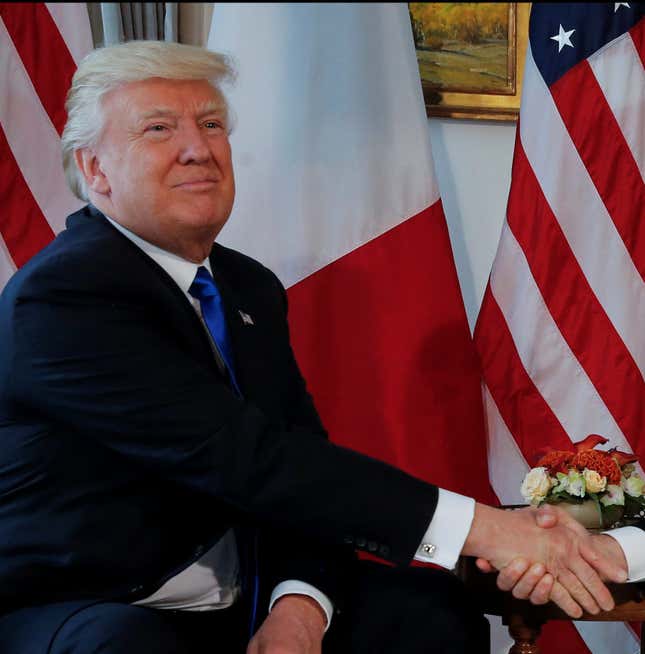 Reuters notes:
Each man gripped each other's right hand so firmly that their knuckles turned white and their jaws seemed to clench.

Images from the photo session at the U.S. ambassador's residence in Brussels showed Trump finally giving up, his fingers loosened while Macron is still holding on tightly.
Update: Later footage from the same day suggests that Trump might be trying to make up for his lack of home team advantage. During a group photo with NATO leaders following his meeting with Macron, Trump exacted revenge with an extremely vigorous second shake.
Just a few days earlier (May 22) during the Muslim Leaders Summer in Riyadh, the president of Tajikistan, Emomali Rahmon, yanked Trump's hand so hard that the US president was pulled forward—exactly the same way Trump once shook hands with US Supreme Court judge Neil Gorsuch.