Dating is stressful; using dating apps, even more so. And if there's one etiquette question that befuddles everyone who's signed up for Tinder or Bumble looking for love, it's the matter of whether it's weird to send a double-text.
Conventional wisdom holds if your match doesn't respond to your first message, sending a second one looks a little needy. Yet new data from Hinge, the popular dating app that ditched swiping in an effort to promote "serious" relationships, shows that double-texting actually improves the likelihood of a response—provided you wait for a bit.
Hinge defined double-texting as a second message sent on a lag (at least five minutes after the first message), so as to discount two-line texts (e.g., sending "hey," then "how are you" two seconds later). The company randomly sampled 300,000 US-based conversations on its app over two weeks in May, which included a nearly equal number of men and women and did not account for sexual orientation or racial demographics.
Of those who double-texted, if the second message was sent more than roughly four hours after the first message, the recipient was actually more likely to respond than to those who were only sent a single message.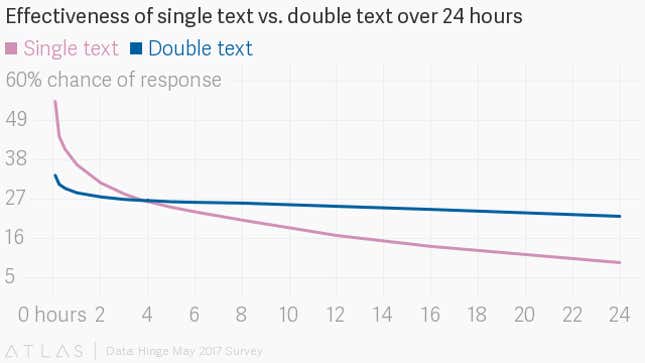 The benefit of double-texting are long-lasting. Even if you send a second message one full week after your first, there's a 12% chance your match will respond, as compared to a 0.39% chance that they'll respond after a week if you've send only one message.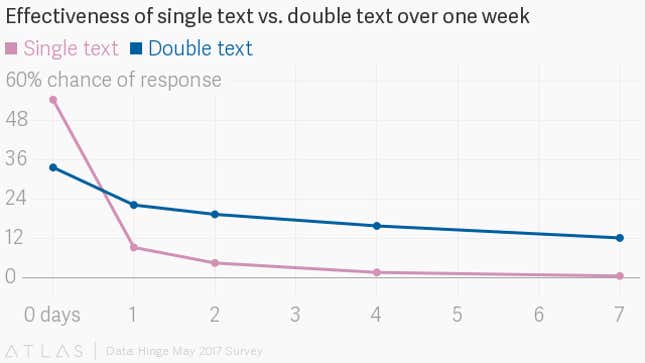 According to Molly Fedick, editor-in-chief of Hinge's advice blog IRL, four hours is the perfect period before a nudge as it gives the recipient time to finish whatever caused their initial delay (work, dinner, exercise) and focus on their answer. It also protects the sender from seeming over-eager: "If someone cannot wait a few hours for a response, the recipient may wonder if that attitude of impatience will carry into a potential relationship," she says.
As for the content of the double-text, Fedick strongly warns against passive-aggressive comments, like "Great conversation," or allusions to non-responsiveness, like "Where'd you go, stranger?" Such messages are common, but they make the sender seem boring at best, and obsessive (or threatening) at worst. And if there's one rule to obey, it's to leave it at the double text. Bombarding a match with triple or quadruple messages is intrusive and may get you blocked.
Launching back into the conversation with a friendly question or comment about a photo, as if the first text didn't even happen, is the best strategy, says Fedick, as interesting conversations require interesting contributions. And if you get a response, be sure to use that interaction to schedule a real-life meet up. No need to drag things out over text. "Dating apps are merely a means of meeting," says Fedick via email, "the real relationship starts offline."