The confluence of smartphones, the internet, and teens' interest in sex is leading to some tricky situations for parents, child protection agencies, and for teenagers themselves. A spike in "sextortion"—blackmail associated with sexual imagery—among teenagers in Canada has led one charity to launch a boldly silly campaign: If asked to send naked images, send instead a picture of a naked mole rat:
The naked mole rat, an unsightly rodent from Africa, already has a presence among online animal memes since—like the unfortunate blobfish—it's thought to be peculiarly ugly. The current campaign urges teens: Don't Get Sextorted, Send a Naked Mole Rat. The rationale is that teens, and especially boys, are more likely to respond to humor than fear. Plus the provision of an idea for action means they have something to send, rather than being required simply not to engage.
The Canadian Centre for Child Protection, which is behind the campaign, said it's seen an 89% increase in so-called "sextortion" cases among teenage boys over the last two years. The stats come from Cybertip, a reporting service, to which 65 boys reported incidents of exploitation involving sexual images in 2015 and 2016. That's not a huge number of boys reporting, but Lianna McDonald, the Canadian Centre's director, said it was important to pay attention regardless, since the problem is so new that there's no way to know yet whether reported incidents are just a fraction of what is actually happening. Cybertip also saw an increase of girls reporting incidents, with 113 reports in 2015-16, a 66% increase over the previous two-year period.
Teenagers sexting, or sending explicit images to friends, has been worrying parents for a while. This kind of blackmail exploits the trend, often with adults posing as teenagers to get young people to send compromising pictures, and then demanding money not to share them.
Some other agencies around the world have responded with alternatives—like Australia's baby wombat. That means the campaign is on track: "It's a conversation starter," MacDonald told the New Yorker. Also, it's a conversation ender: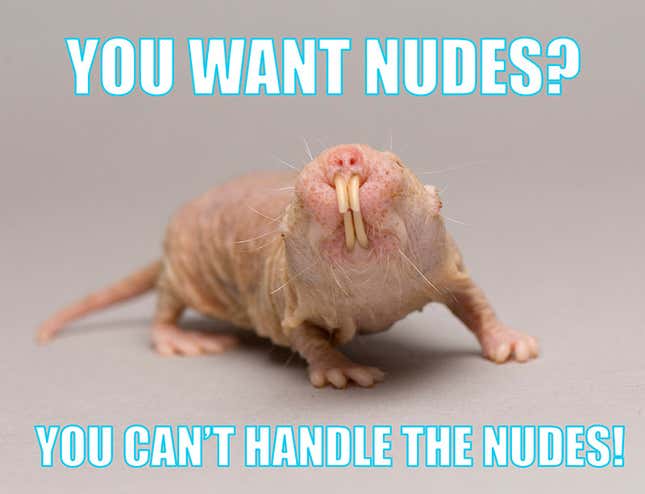 This story has been updated to include the number of girls reporting incidents of "sextortion" to Cybertip.