When Brooks Entwistle started making plans to climb Mount Everest this spring, he had one big question for his expedition leaders: Would it be okay to show up late?
A 50-year-old American based in Singapore, Entwistle had obligations at work—he's a senior director at a private equity firm—and at home that made it impossible for him to leave until April 30. That was 10 days later than the climb, led by Alpenglow Expeditions, was set to kick off. Alpenglow founder Adrian Ballinger told Entwistle he would think about it.
Alpenglow had already designed its approach to fit in a tight timeframe: just 34 days, compared with 60-plus for your typical Everest itinerary. Although the Lake Tahoe, California-based company is quickly gaining respect for its light and fast expeditions on the mountain's less popular north side, Entwistle's itinerary would be a squeeze. Still, after conferring with their in-house doctor, Alpenglow's guides decided to give him the green light.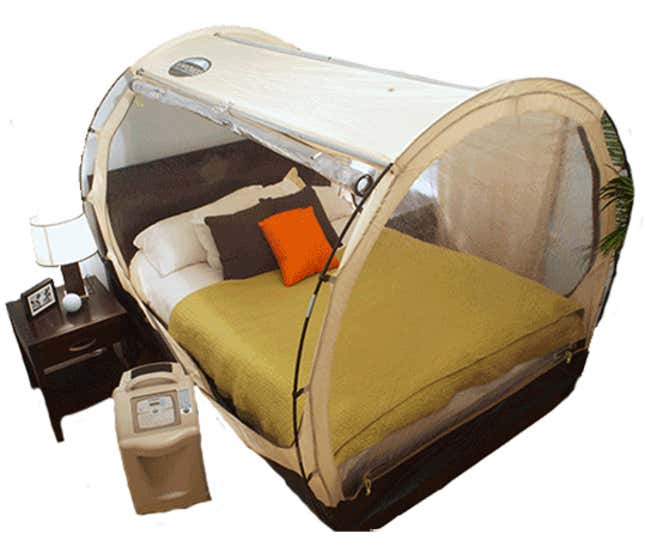 It helped that Entwistle wasn't just any client. In addition to notching a previous attempt on Everest in 2014, he had in late 2016 climbed up to and skiied down from the summit of Tibet's Cho Oyu, a 26,906-foot (8,200-meter) peak that is as good a proving ground for Everest as any. That expedition, also with Alpenglow, had taken just 17 days thanks to the company's unique "rapid ascent" method, which relies heavily on pre-expedition fitness training and at-home equipment that simulates hypoxia, or the low oxygen of high altitude.
For Everest, Alpenglow sent Entwistle a training plan and some gear from a company called Hypoxico, including a tent to mimic the feeling of sleeping at high altitude, a mask to mimic the feeling of exercising at high altitude, and a pulse oximeter to monitor his oxygen levels while using the equipment.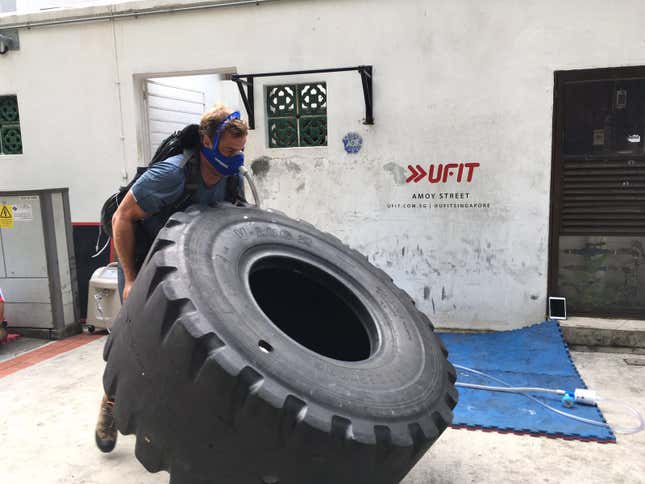 Entwistle arrived at the foot of Everest on May 2, and three weeks later celebrated his 50th birthday by skiing above the expedition's advanced base camp at 21,000 feet. On May 27, he summited. By May 29 he was en route to the airport, and on May 31 he attended his daughter's middle-school graduation, back in Singapore.
"Thirty days from home to back home, 27 awesome days of skiing and climbing the mountain and one amazing summit," Entwistle wrote in a message that Alpenglow posted on Facebook. "Only possible through Alpenglow's Rapid Ascent program. Thank you all again very much… moments like this morning are one of the many reasons that the Rapid Ascent approach is going to be on the right side of Everest history."
Had Entwistle scaled Everest at a more typical pace, on day 27 of the expedition he might have been resting at Base Camp, or gritting his teeth through a training exercise halfway up the mountain. Instead of acclimatizing to high altitude under simulated conditions at home, most climbers go through that process on site, spending several days adapting to conditions at Base Camp, then ascending higher, descending back to Base Camp to rest, and so on—a chutes-and-ladders routine that may go on for weeks before they're ready for the summit.
Ballinger is confident that the method he's developed for Alpenglow is a smart, modernized version of the traditional acclimatization process, but it is controversial. In interviews with Bloomberg, other esteemed Everest guides—like Adventure Consultants CEO Guy Cotter and Himalayan Expeditions owner Russell Brice—expressed concern about the safety of Hypoxico's tents. Simon Lowe, managing director of British expedition company Jagged Globe, called the tents "snake oil." He said they ignore the classic "climb high, sleep low" principle of high-altitude training, which tells climbers to experience oxygen deprivation while exerting themselves at high altitudes during the day before resting and recovering with more oxygen at night. "The oxygen tent does that the complete wrong way," he said. "You sleep artificially high, and you spend your days low when you're not in the tent."
For laymen, the rapid-ascent approach may simply sound like cheating. Entwistle hails Alpenglow's program for reducing the amount of mental strain a climber would experience on a 60-day expedition. But isn't mental strain a major part of a mountain climbing expedition? Isn't reducing it… a little bit like cheating?
Entwistle says no. He points out how high Ballinger's expectations are of his Everest clients' fitness and prior mountaineering experience. "With this approach, you work extremely hard," he says.
The rapid-ascent method isn't the first innovation to expose philosophical divides on Everest. Some climbers on traditional acclimatization schedules, after four or five weeks of going up and down the mountain, will take helicopter rides out of Base Camp and to lower elevations to rest and enjoy some restaurant meals before flying back to make their summit attempts. And some expeditions provide incredibly luxurious amenities for climbers on Everest's crowded south side: toilets, showers, and space heaters, and more. Debate has flourished over whether it's reasonable to ferry those luxuries up the mountain via helicopter rather than on the backs of Sherpas, the Nepalese people employed as guides and assistants on every expedition.
"You have to look at where people draw the lines," says Alpenglow guide Zeb Blais, who climbed (and skied) alongside Entwistle on both Cho Oyu and Everest. "Why use helicopters? Why use oxygen? You know, we all 'cheat' at climbing the mountain. It's just a matter of where you personally want to draw that line."