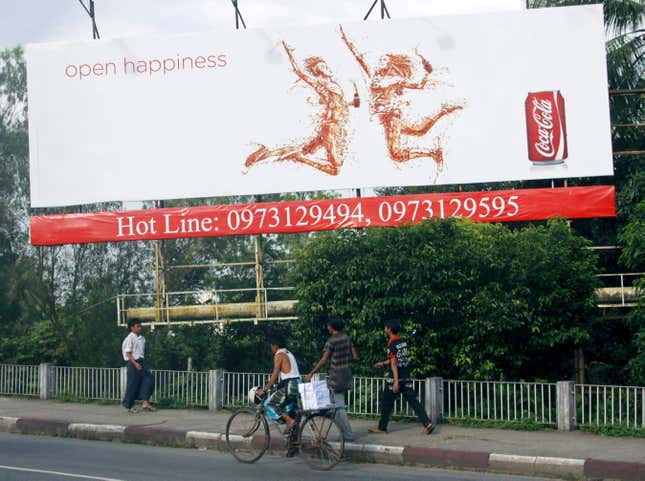 Myanmar is trying hard to shake off its past as a poor, repressive hermit kingdom and become a place where foreign multinationals and investment funds want to be.  The president, Thein Sein, has said he would accept a victory by the opposition leader Aung San Suu Kyi in the country's next elections. The country is resource-rich, borders both India and China, and is about to fill up with oil and gas pipelines. Want to do business there? Here's a quick guide to the obstacles.
Get a lawyer with a strong stomach. Myanmar's financial reforms will give outside investors a host of legal and governance problems. Its foreign investment laws are not yet finalized but the government will probably demand that international investors strike joint ventures (paywall) with local business people.
Good luck avoiding companies who were linked with the former ruling junta. The country ranked joint second from last on Transparency International's Corruption Perceptions Index for 2011. It is hard to find successful locals who were not close to the military junta, which ruled from the late 1980s until the current semi-civilian government took over last year. As the International Crisis Group reported in July (pdf, p. 9), under martial law it was impossible to win contracts or build businesses without being what the US government often calls a "crony" of the former regime.
Being a crony meant being involved with some rather unsavory people. According to the current CIA World Factbook entry, the military continues to unlawfully conscript child soldiers, though the regime did sign an "action plan" to prevent child recruitment last June. In 2008, the US State Department alleged that the Burmese military junta colluded with traffickers (pdf, p.144) in people, drugs, and other contraband.
So Western firms will find that the people they do business with in Myanmar will probably give them what Hugo Williamson, of the London-based Risk Resolution Group, delicately calls "governance issues." He expands: "Companies who must follow the US Foreign Corrupt Practices Act or the UK anti-bribery legislation, for example, are going to be quite stymied."
Myanmar is not economically moribund. It sells resources, such as gas, to trading partners like China that do not impose sanctions. Arakan Oil Watch, an NGO in Myanmar, said in a report in March that the country has a "revenue black hole" (pdf), arguing that while Myanmar should make $3 billion from oil and gas sales this year, gas revenues in particular have not been accounted for. "Most analysts speculate that payments are deposited into foreign bank accounts which are accessed by military generals for arms purchases and personal expenses," the report says (p. 11).
Be prepared to search long and hard for suitable partners. Coca-Cola has started delivering to Myanmar again after a 60-year absence. It has said in a press release that it may establish a bottling joint venture with a local entity it describes as "Pinya Manufacturing." Three years ago, a US Embassy cable that was in the trove dumped online by Wikileaks said Pinya Manufacturing was controlled by a tycoon known as Zaw Zaw, who heads a conglomerate named Max Myanmar.  The cable added that Zaw Zaw had ties to Myanmar's former military junta. He and Max Myanmar are on the latest list (pdf, p. 292 & 486) of individuals and firms the US government has imposed sanctions on. (Pinya Manufacturing does not appear on the list, however.) Spokespeople for Coca-Cola's Asia Pacific business did not return an email or a phone call requesting comment. A person answering the phone at Pinya's head office did not answer questions on the company's ownership.
It can be hard even to identify who you are doing business with. Western sanctions against Burmese individuals often apply to their family members. It is hard to know who those are, points out Macquarie University Associate Professor Sean Turnell, "because Burmese people don't have surnames." There is also no reliable registry of corporate ownership in the country. And if someone on a sanctions list is hiding behind a "nominee" (i.e., front) company, it is probably difficult to find that out. On the plus side, Turnell says, Myanmar's business elite is extremely small. So while an internet or media search will not tell you who is who, "insiders can tell you immediately what is going on." He adds a new cottage industry of former government officials and other well-connected English speakers is springing up in Myanmar to help confused prospective foreign investors find their way.
But Burmese businessmen are reinventing themselves. Zaw Zaw put his side of the story in this interview (paywall), where he denied being a junta crony and said he was devoted to growing Myanmar's economy and creating jobs. Last September, he was pictured sitting next to Suu Kyi at a football match. Also on the list of Burmese tycoons under US sanctions is Tay Za (pdf, p. 483), who has claimed to be his country's richest man. The US Treasury in 2008 called Tay an "an arms dealer and financial henchman of Burma's repressive junta" and retains a host of sanctions against his businesses. He might, though, be hard to avoid for some companies seeking joint ventures. He owns the country's only private airline and has a near monopoly of its telecoms industry. In this interview, he says he was never an arms dealer or junta bagman and that Suu Kyi once stayed at his family compound, before her arrest in 1989.
It could be too early to get excited about political reforms. In northern Myanmar's Kachin State, currently the scene of a war between the government and independence activists, rape of Kachin women by Burmese soldiers is allegedly widespread. And while Suu Kyi's release was high profile, Myanmar still has several hundred prisoners of conscience, according to Human Rights Watch.
And financial reforms have been chaotic. President Thein Sein is in a rush to reform, but the government lacks the expertise to build financial institutions. In April, in one of its biggest reforms yet, the government floated the currency, the kyat (which had previously traded at an official rate of up to 160 times the black-market rate). But it did so before creating an "independent central bank with the ability to intervene effectively in the exchange market," Crisis Group wrote in its July report (p. 6). "The central bank neither holds the country's foreign exchange reserves nor has the necessary early warning systems in place to provide real time information."
But Myanmar remains a place of outstanding natural beauty… and booty. As well as oil and gas, Myanmar has coal, copper, jade and a host of other minerals. It used to be Asia's top rice exporter before the 1960s. The country sits at a nexus of world trade. And there are massive infrastructure projects planned, including a deep sea port on the Indian Ocean and oil and gas pipelines that will create an energy and trade route to southwestern China. Myanmar is talking to Thailand and Vietnam about an ambitious plan to build new road and rail links to its neighbors as part of the Dawei Development Project , which also could involve a deep sea port and oil refineries.