A nightmarish few months for residents of Otodo Gbame, a waterfront slum on the Lagos lagoon, took a turn for the better in a Lagos courtroom on Wednesday (June 21).
In a landmark judgment, a Lagos High court judge ruled that the government's eviction of Otodo Gbame residents and demolition of their homes over the past few months is unconstitutional as there were no plans for resettlement or compensation. The court also ordered the Lagos state government to consult with and resettle displaced residents and barred further evictions without adequate notice and resettlement. For its part, the state government had initially denied involvement in the demolitions, instead attributing it to a fire and then later defended its actions as a security measure in public interests.
Andrew Maki, co-director of Justice and Empowerment Initiatives (JEI), a legal campaign group that works with Otodo Gbame residents, told Quartz the judgment is "a huge step forward for the protection of the urban poor." Describing it as a "massive precedent," Maki says other waterfront slum residents in the state will be protected by the judgment. Lagos state government has not commented on the judgment.
The demolitions, which resulted in the death of more than 15 residents, were highly publicized and captured the struggles of the poor in Africa's largest mega city. Unable to afford high rent in a city where land and housing has become too expensive for many of its residents, slums like Otodo Gbame have mushroomed over the years. But, with the once undesired waterfronts now seen as prime real estate areas, a common theory is that residents are likely being kicked out to pave way for more lucrative projects.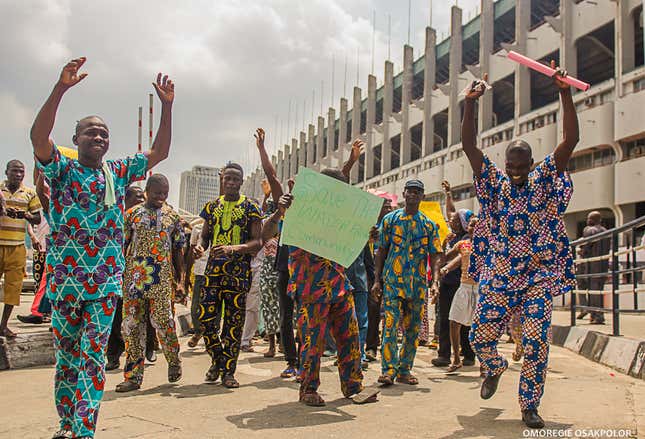 While court injunctions and rulings during the course of the case had seemingly been previously ignored by the government, Maki says the government will find it difficult to avoid adhering to the judgment. "There isn't a lot of room for misinterpretation of the judgment." With talks with the government on resettlement plans and possibly compensation set to begin, Maki says the judgment tilts the balance as "Otodo Gbame residents and the remaining 270,000 waterfront slum residents protected by the judgment now have tremendous power to negotiate with."