Even as his domestic approval ratings hit an all-time low, US president Donald Trump can take comfort in his growing popularity in some parts of Africa's most populous nation.
Though his xenophobic, white nationalist views have no doubt alienated many Nigerians, his nativist and Islamophobic rhetoric has energized others. Indeed some see Trump as a political icon. Even though Trump has said little to nothing about Nigeria, these groups see in him a powerful figure sympathetic to their aims.
It goes without saying that Nigerians' reaction to Trump's 2016 election victory was muted compared to their response to president Barack Obama's historic 2008 win. Over the course of his presidency, however, Nigerian goodwill toward Obama faded, hurt by his decision not to visit Nigeria, his support for gay marriage, and perceived unwillingness to supply arms to the Nigerian military. Former president Goodluck Jonathan even accused the Obama Administration of clandestinely supporting president Muhammadu Buhari's candidacy, claiming U.S. actions during Nigeria's 2015 presidential election amounted to interference.
Despite these irritants, 69% of Nigerians still view the United States favorably, according to a 2017 Pew Research Center poll. This reservoir of goodwill—combined with Trump's robust social media following and his ambivalence about contentious issues like human rights—suggests Trump might receive a warm welcome if he decided to visit Nigeria. A U.S. presidential visit is long overdue: the last was by George W. Bush in July 2003.
Growing Social Media Footprint 
So how big is Trump's Nigerian fan base? In the absence of public polling, one quantifiable metric of Nigerian interest in Trump is the number of people following him on Twitter. Over 700,000 Nigerians tune in to Trump's tweets: over 2% of his 32 million followers, according to TweepsMap.com. His Nigeria-based Facebook is another useful metric of his popularity: between October and June it more than quadrupled, says analytics firm SocialBakers.com.
Nigeria has the 5th highest share of Trump followers on Twitter
Approximate totals as of 20 June. Source: TweepsMap.com, SocialBakers.com. Note that Twitter analytics service TwitterAudit.com assesses that roughly one-third of all of Trump's followers are fake (bots, paid followers, etc.)
(Some) Nigerians love Trump
Trump's social media popularity among Nigerians belies the fact that he didn't mention Nigeria during his campaign and has said little about it since becoming president, though he had a phone conversation with president Buhari in February. Trump has also approved the sale of fighter jets to Nigeria to help in its fight against Boko Haram.
Nevertheless, his generically nativist and Islamophobic messaging resonates with many particularly among some members of two ethno-political constituencies: Christian, self-described "indigenes" in the middle belt's Plateau State and Igbo nationalists across the southeast.
Six weeks before Trump's election victory, on a cool evening outside Jos—Plateau State's at times volatile capital—a friend who is an up-and-coming local politico explained to me why he and other 'like-minded indigenes' are attracted to the US president: "Trump's boldness and guts represent hope for the defenseless", he said. "Obama was a disgrace and weak compared to the likes of Trump and Putin. He speaks in favor of Islam which is the root cause of terrorism."
When I suggest Nigerians should be concerned by Trump's anti-immigrant stance and white supremacist sympathies, my friend acknowledged that these probably would influence his feelings toward Trump if he was a Nigerian-American living in the United States, but as a non-resident, it did not.
Like my friend, some self-described 'Biafrans' (modern-day Igbo nationalists) have also emerged as vocal Trump supporters. Biafra was the name adopted by Nigeria's then-Eastern Region when rebel leaders attempted to secede from Nigeria in 1967. Following a two-and-a-half year long civil war that left over 2 million people dead, Nigeria defeated the rebels.
Unbeknownst to him, Trump is being hailed as a patron of this controversial movement even though he lacks any connection—direct or indirect—to it. According to journalist Atane Ofiaja, Biafran affinity for Trump is rooted in his statements on political self-determination and radical Islam, while deliberately overlooking his racist, anti-immigrant policies.
These "statements" refer to a tweet Trump made in June 2016 in support of the British electorate's decision to leave the European Union ("Brexit"):
Pro-Biafra websites pounced on the tweet, attempting to extrapolate Trump's support for Biafran independence from it, claiming it was "a direct message to Nigeria" that it should "allow Biafrans to go". 
Trump's Islamophobic pronouncements have also appeared to resonate with Biafra activists, who sometimes blame Nigeria's northern Muslim leadership for oppressing their people over the decades.
After Trump's election victory, one spokesman proclaimed: "Since Mr Trump is our choice, who will say no to Muslim colonization. It was the prayers of the Biafrans that stopped Hillary Clinton from winning the presidential election." Pro-Biafra activists on social media are amplifying this and other anti-Islamic narratives, merging them with pro-Trump and anti-Buhari messages.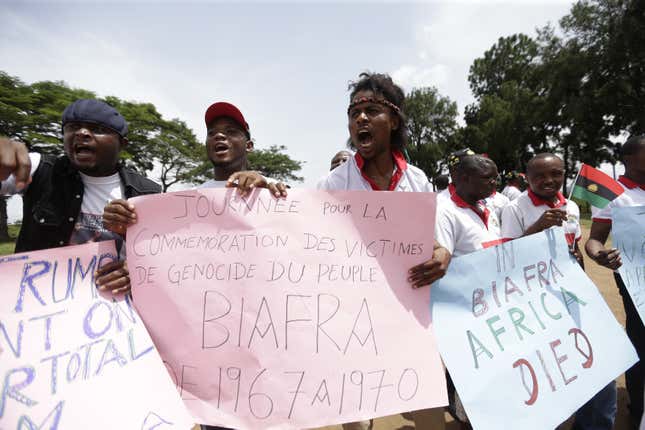 Though extreme and at times unhinged, this rhetoric reflects the perception among some Nigerians that the Obama administration was unduly close to president Buhari and that it somehow facilitated his 2015 election victory. Six months into Trump's term, however, Biafran activists are beginning to express some disappointment that Trump has yet to acknowledge their plight and has instead cultivated a cordial relationship with their perceived archenemy: president Buhari. 
As Trump enters his seventh month in the Oval Office, his administration's policy toward Nigeria—or toward Africa writ large—hasn't coalesced. Trump has yet to appoint the two people who will heavily shape his approach to Nigeria: the Assistant Secretary of State for African Affairs and the Senior Director for Africa on the National Security Council. Even more telling, Washington insiders have little sense of when he will name them or who they will be.
In the meantime, US policy toward Nigeria will largely be steered by US Ambassador to Nigeria W. Stuart Symington, an affable career diplomat and former ambassador to Rwanda. Since arriving in Abuja last year, Symington has worked hard to cultivate relationships across the federal and many state governments.
Unless Trump—via a tweet or unscripted public musing—disrupts the US Nigeria policy consensus that guides diplomats like Symington, his Nigerian fan base may become increasingly disillusioned with a man they hoped would rally to their cause.