China has officially opened its first overseas military base in Djibouti, in the Horn of Africa. In a flag raising ceremony today (Aug.1), Chinese officials unveiled the base that Beijing insists is purely a support center for Chinese peacekeeping and humanitarian efforts in the region.  
"The Djibouti base has nothing to do with an arms race or military expansion, and China has no intention of turning the logistics center into a military foothold," the state-run news agency Xinhua said in an English-language editorial earlier this month. Beijing has said base will be used to support naval missions along the coasts of Somalia and Yemen.
The fact that China's first overseas base is in Africa reflects Chinese's expanding engagement with the continent where several of China's first major moves as a global power have taken place. China's first overseas peacekeeping mission was in South Sudan, where 700 Chinese troops remain today and China has been part of other UN missions in the Democratic Republic of Congo, Mali, Liberia, and Sudan.
Earlier this week, the Chinese ambassador to the African Union, Kuang Weilin, offered to send soldiers to a disputed border area between Eritrea and Djibouti that had been maintained by Qatari forces. Qatari peacekeepers pulled out of the area last month.
It's clear that China isn't just motivated by humanitarian efforts. Djibouti is located near the Suez Canal, through which as much as 10% of the world's sea-borne oil trade passes through every year.(Djibouti already houses several foreign security forces, including the United States military at Camp Lemonnier, Britain, Japan, and France.) It's also part of China's One Belt One Road" project, a massive network of transport links that roughly follows the ancient Silk Road.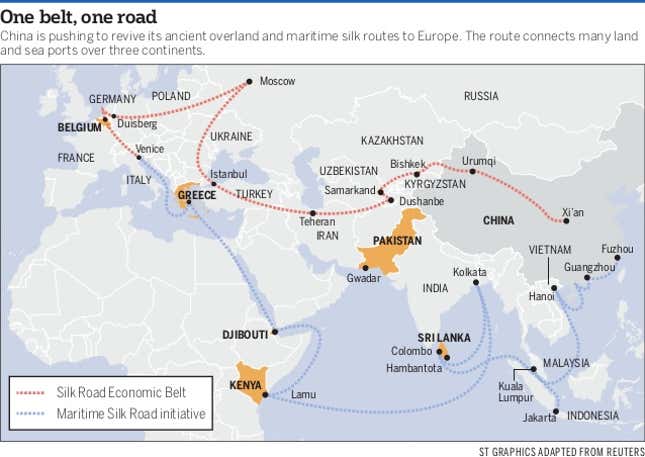 Satellite images obtained by Stratfor, the US-based geopolitical intelligence platform, in April and July reveal a heavily fortified base with three layers of defense, an underground space of 23,000 square meters, and at least eight hangars for aircraft. Curiously, according to Stratfor, no dock had been constructed yet, despite the base's main mission to support Chinese naval operations.
"It is clear that Beijing is laying down the infrastructure to provide long-term support to naval vessels and some aircraft on the Horn of Africa, near one of the world's chokepoints for trade," Stratfor wrote.