When Wayde van Niekerk returned home to South Africa with his first major gold medal from the 2015 World Championship in Beijing, only his mother was at the airport to meet him. At least, that's according to the Facebook post of a woman who happened to recognize him in the Bloemfontein airport.
These days, his fortunes are much different. Van Niekerk has become a household name in South Africa and is well on his way to being a global superstar—a far cry from a few years ago when he considered quitting.
His star status was recently rubber-stamped as Usain Bolt, athletics' superstar of the past decade, said van Niekerk could replace him as the sport's main star.
"He's shown he's ready for the challenge. He's really down to earth, he's really humble, he's a great person," said Bolt to journalists earlier this summer. "He listens and wants to be good and if he continues like this he'll take over track and field."
Bolt's endorsement is timely, as he bows out of the spotlight after the World Athletics Championships in London this weekend.
Bolt's coronation of van Niekerk is not without merit. Since making his international debut as a greenhorn 18-year old at the IAAF World Junior Championships hosted by Canada in 2010, van Niekerk, 25, has raced into global consciousness. Van Niekerk's epochal moment so far came at the Olympic Games in 2016 when he ran the fastest 400-meter race in history, breaking a 17-year-old world record in the process. Van Niekerk completed the single lap in 43:03 seconds, beating the previous record set by Michael Johnson by 0.15 seconds.
He also broke Johnson's 300-meter world record time in June.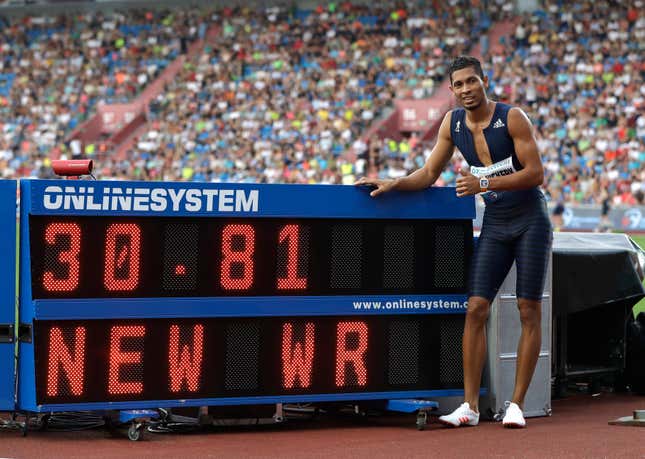 Van Niekerk credits much of his record breaking performance to his coach Ans Botha, a 74-year-old great grandmother of four who has been a track-and-field coach since the 1960s. This year, he's pushed himself even further running in the 100 and 200 meters and he set yet another record while at it becoming the first athlete to run 100 meters under 10 seconds, 200 meters under 20 seconds and 400 meters under 44 seconds.
These exploits have started to pay off handsomely with world' record bonuses from some of his sponsors. Audi, another one of van Niekerk's sponsors, gifted him with a $223,000  sports car. The 25-year old also has an endorsement with Adidas. While Van Niekerk's agent is forbidden from discussing the athlete's earnings,  following his Rio performance, conservative estimates pegged his earnings for the year at 28 million rand (about $2.1 million). It's nowhere near Bolt's $33 million, but if Bolt himself were to be believed, van Niekerk could very well get there.
Without these sponsorship deals, van Niekerk's career may very well have gone the way of so many South African track and field talent, hampered by the disarray and poor funding that has gripped Athletics South Africa in recent years. Instead, van Niekerk's international stardom, along with that of 800 meter Olympic gold medalist Caster Semenya, has also shone a spotlight (paywall) on his fellow athletes like 100-meter sprinter Akani Simbine and long jumper Luvo Manyonga.
It may have seemed unlikely in the 1990s as van Niekerk grew up in Kraaifontein outside Cape Town that he'd one day become the biggest name in athletics.
Already 25 and without the confident swagger of Bolt, van Niekerk's popularity will likely be anchored more on his performance on the tracks than his stardust off it.  He's even admitted that he might not be able to "entertain" like Bolt.  "I am not that type but I see qualities I share with Usain Bolt, and that brings a form of comfort even if it won't sell T-shirts," he said earlier this year.