In the battle for Kenya's presidency, the bloc of voters most neglected by the race's two main candidates may be the one that matters most. Ahead of the Aug 8 general election, president Uhuru Kenyatta, 55, and opposition leader Raila Odinga, 72, have focused on winning over young people, voters in swing counties, and discontented tribes whose loyalties are changeable.
Yet, Kenya's 9.4 million female voters, 47% of registered voters, have been an afterthought in an election that hinges on turnout and undecided voters. In Kenya's last election, also a contest between Kenyatta and Odinga, Kenyatta won with less than 8,000 votes. There's reason to believe this presidential race may be even closer. According to the most recent polls, Kenyatta and Odinga are as little as one percentage point apart. 
The presidential race has been described as a young person's election, voters between the ages of 18 and 35 account for 51% of all voters, up from 46% in the 2013 election. But much of that increase came from young women. The number of women between 26 and 35 registering to vote increased 62% between 2017 and 2013, compared to 50% for males of the same age range, according to data analyzed by Data Science, a Nairobi-based research analytics company.
Their votes will matter in some of the most contested parts of the country. Twenty one of Kenya's 47 counties have higher numbers of women registered to vote than men, including Turkana, Samburu, two of seven counties considered swing regions in this election, according to the risk consultancy Maplecroft.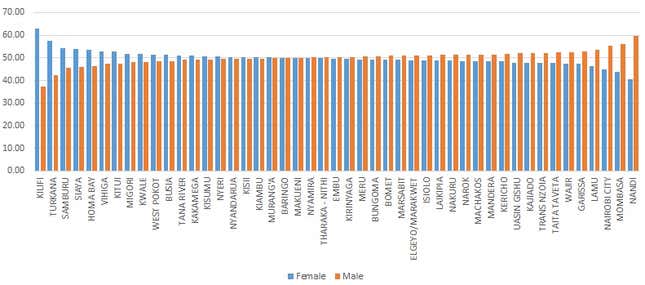 Curiously, neither candidate has tried particularly hard to win women voters. Kenyatta's wife, Margaret, has done the bulk of the ruling Jubilee party's campaigning among women, promoting a vague platform of more of the same. "Allow us to finish the work we started," she told a stadium of women in Kiambu county outside of Nairobi last week. She added that her husband would expand a welfare program for the elderly.
Odinga has focused a little more on female voters. He's promised to start a fund for single mothers to use for starting small businesses and hired consultants to work on appealing to women. Still, most of Odinga's overtures toward women has been complimenting women from Meru on their skin (a result of the local potatoes, he said), and calling on women to abstain from sex with their husbands to ensure that they vote.
Despite the lack of attention, the election is evidence of the larger role women are playing in politics in Kenya, where only 19% of parliament seats are held by women, the lowest proportion in East Africa. Nine women are running for gubernatorial positions. In Kirinyaga county, north of Nairobi, the governor's race has narrowed down to two female candidates, both experienced politicians—Kenya's former devolution cabinet secretary, Anne Waiguru, and Martha Karua, a former parliamentarian.
"It is time Kenyans got over the mentality that political seats are only for men. Women must fight for their political space to deliver their dreams," Waiguru said earlier this month.