Gunmen opened fire on a restaurant in Burkina Faso's capital Ouagadougou on Sunday night, leaving 18 people dead and several others wounded.
The attack, which continued into the early hours of Monday local time (Aug. 14), targeted Aziz Istanbul, a Turkish restaurant popular with foreigners. The assailants reportedly arrived on motorbikes and randomly started shooting at diners in the restaurant.
"This is a terrorist attack," communications minister Remi Dandjinou said. The government also said that security forces had killed two suspected jihadists who had opened fire on the customers, bringing the total dead to 20. Details about the dead continue to emerge slowly, but both Turkey and France have said that one of their nationals were among those killed, according to AFP.
No group has yet claimed responsibility, but the attack is very similar to one that killed 30 people in a popular café in Ouagadougou in January 2016. That attack was claimed by al-Qaeda in the Islamic Maghreb (AQIM), an outfit that has been spreading and launching high-profile attacks in Mali, Burkina Faso, and Côte d'Ivoire. Observers have said that AQIM's ramping up of attacks in west Africa was a way for the group to re-assert its dominance in the wake of the Islamic State's rise in the region.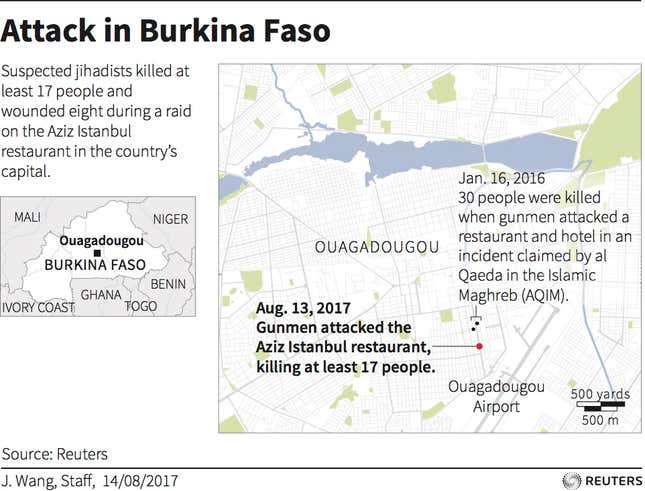 AQIM, which traces its roots back to the Algerian civil conflict in the 1990s and became an al-Qaeda affiliate in mid-2000s, has increasingly focused their strategies on targets located in countries that are either weak or unstable. In west Africa, it has targeted Algeria, Niger, and Mali killing people and carrying out kidnappings for ransom, all done with the objective of ridding the region with what they perceive to be the corrupting influence of the West.
Seán Smith, the senior Africa analyst at global risk consultancy Verisk Maplecroft, says the attack illustrates how the threat of terrorism, previously confined to northern Mali, now looms large over most of the Sahel region.
"While most attacks in Burkina Faso remain confined to the remote northern regions that border Mali, this incident reiterates that Islamists also have the ability to strike at will in the capital," Smith said.