On Sunday night, gunmen opened fire on Aziz Istanbul cafe, a halal restaurant in the heart of the capital of Burkina Faso, Ouagadougou, killing at least 18 diners. It was followed some hours later on Monday when another set of gunmen attacked the UN mission's base in Timbuktu, where Burkinabe soldiers are based, killing seven people.
The Ouagadougou attack mirrored another assault in which jihadists with AK-47s murdered 29 people at a café called Cappuccino and a hotel on the same street a year and half ago. Like the January 2016 attack, this one was probably carried out by Al-Qaeda extremists as a response to Burkinabe soldiers' presence in northern Mali with the UN mission there.
Burkinabe peacekeepers in Timbuktu and Mopti patrol incredibly dangerous areas in armored vehicles as well as exposed pickup trucks and have often been the target of jihadist attacks; 13 have been killed since the mission launched in 2014. This stands in stark contrast to the Swedish peacekeepers stationed in the same base in Timbuktu, who have not lost anyone since deploying in 2015.
While jihadist groups in the Sahel would surely like to attack more direct targets in Bamako, Mali, and Niamey, Niger, those cities benefit from a stronger military presence in them and more security measures for restaurants. The two cafes attacked in Ouagadougou are on Burkina Faso's main street for nightlife and have terraces on the sidewalk; similar establishments are less common in other countries.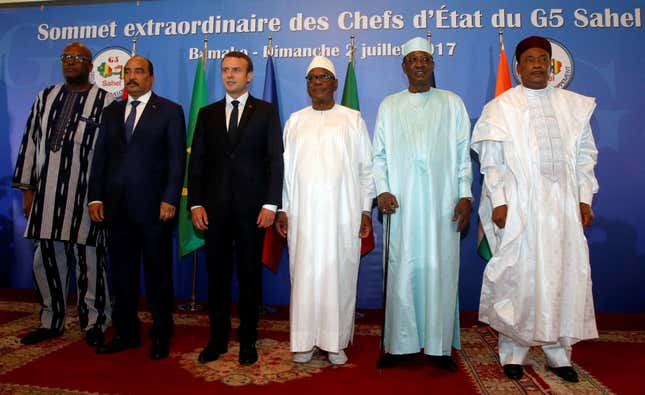 Burkina Faso is also vulnerable because it suffers from a lack of intelligence on jihadist groups after its former director of intelligence, general Gilbert Diendéré, was arrested and imprisoned for his role in leading a coup attempt in 2015. Diendéré was the right hand man of the previous president Blaise Compaoré. He communicated regularly with terrorist groups in the region through his Mauritanian interlocutor, Moustapha Limam Chafi, before Compaoré was overthrown in a popular uprising in 2014.
Diendéré personally delivered European ransom money in exchange for a Swiss hostage to Al-Qaeda when the terrorist group occupied northern Mali in 2012. A video released at the time showed Diendéré sitting down to roasted lamb and cans of Fanta in a tent with the leader of Al Qaeda in Timbuktu, Sanda Ould Boumama. Diendéré has since been charged with complicity assassinating the late revolutionary leader and national hero of Burkina Faso, Thomas Sankara.
The regional response to these attacks will likely be to ramp up support for the G5 Sahel, a French initiative to create a common anti-terrorist force among Mauritania, Mali, Burkina, Niger, and Chad. The UN Security Council unanimously adopted the resolution calling for the creation of the G5 force in June, though its $500 million budget has yet to be anywhere close to fully funded.
A military response might provide some immediate relief. But year after year, Western and West African nations pour resources into military response to the growing insecurity in the region, with little results. In the Sahel region, there are multiple French bases, the $800 million a year UN peacekeeping mission MINUSMA, multiple trainings for security forces carried out by American and European soldiers, and more, but each year security deteriorates. Four and a half years after French, Chadian, and Malian soldiers took northern Mali back from jihadist groups, the jihadist attacks have moved south in Mali, struck Burkina Faso twice, Ivory Coast, western Niger, and continue to rampage in northern Mali.
It is time to rethink the long-term strategy for providing safety and security in Burkina Faso and the rest of the Sahel region. With the highest rates of poverty in the world, access to water, electricity, roads and other basic infrastructure remain the biggest challenges, and should be addressed before spending hundreds more millions of dollars on a military response.