Two days later, the staggering effects of a devastating mudslide in Freetown, Sierra Leone's capital, is starting to become clear.
So far, over 400 people have been reported dead while another 600 remain missing and are believed to be buried in the debris as recovery operations continue in the affected areas near the capital. Thousands of survivors have also lost their homes and are, the Red Cross says, at risk of disease outbreaks following the muddy floods. Given that Sierra Leone's rainy season is not yet over, the UN is assessing the possibility of a second mudslide and is using radar imagery, satellite data and drone mapping to determine which areas remain at risk, The Guardian reports.
The mudslide ranks as the country's worst natural disaster in recent years and builds on several years of the devastating impact of Ebola and before that civil war. And yet, for a natural disaster, it was not entirely unexpected. Freetown records the highest annual rainfall in Africa and previous flood incidents, while less devastating, have occurred. This tragedy though is inextricably linked to years of poor urban development planning and government lethargy.
Over the years, like in many other African countries, urban migration has seen many of Freetown's current residents attracted there by the promise of the capital's economic activity. But with land and affordable housing out of reach for most, they have built dwellings on the city's outskirts and hillsides. Those slums, which have emerged at the cost of rapid deforestation, have grown unchecked given the lack of an urban development plan. As of 2015, 60% of housing in the capital were defined as slums and to plug the housing deficit, the city required 19,000 homes per year until 2028.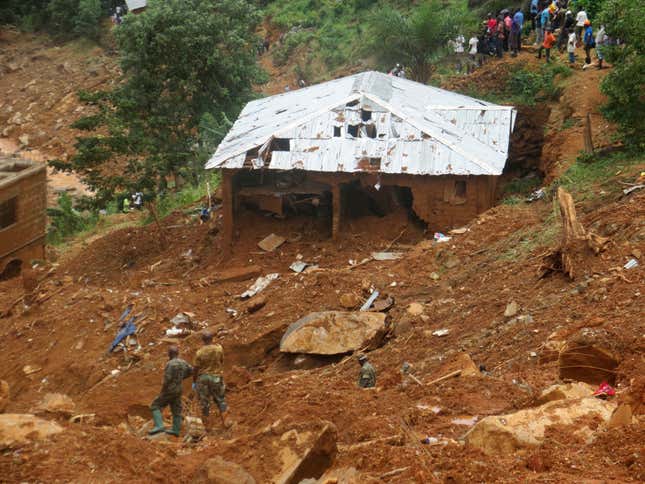 To avert a similar crisis in the coming years, Sierra Leone's government will have to enforce urban planning regulations to prevent poorly planned construction of homes. So far, despite an abundance of proposals, "the failure has been in terms of political action," James Hitchen, a researcher at Africa Research Institute, a London-based think tank, told BBC. But, given the spotlight this tragedy will bring, the government will likely feel a stronger sense of urgency. In the meantime, president Ernest Bai Koroma, describing the devastation as "overwhelming," has called for "urgent support."
Poor drainage and waste disposal habits have also been cited as a cause of the intense flooding. The city's two main dumpsites are at capacity and were recommended to be closed back in 2009 given the health hazards they pose. Both dumpsites remain open.
Back in September 2015, Mohamed Bah, deputy director of Sierra Leone's environment protection agency, warned of the consequences of "irresponsible actions taken on the hills" in reference to the rapid deforestation and unsafe construction of homes. At the time, his warnings may have rang hollow but in light of recent events they bear repeating: "until we stop dumping waste into drainages, until we stop clearing the trees, we will always face severe consequences of climate change," he said.