In early August, China became the latest country to open a military base in the Horn of Africa nation of Djibouti, the third smallest country on the continent's mainland.
Chinese officials said the facility had nothing to do with military expansion and will be a supply center for their peacekeeping and humanitarian missions in the region. For many, the decision signified China's growing role in Africa and its determination to secure its expanding interests across the continent.
But the move was also indicative of Djibouti's growing role as an attractive spot for global military superpowers. Located at the southern entrance to the Red Sea, Djibouti is a tiny, barren country, with a population less than one million. Yet since the turn of the century, it has become a base for various European, Asian, and American forces, who have all camped in the region for one reason or another.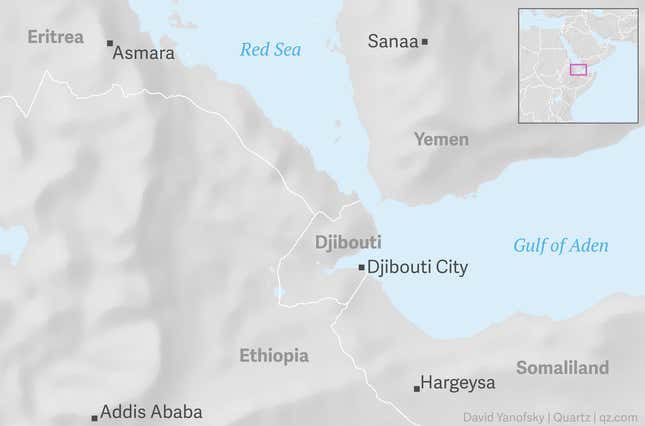 As the former colonial power, France still has one of its largest concentration of its overseas forces stationed in Djibouti. After the terrorist attacks of 9/11, the United States also established Camp Lemonnier—its only permanent military installation in Africa—in order to combat terrorist threats in Yemen and the Horn of Africa. Japan's only foreign military base is also based in the capital Djibouti and is now set for expansion as a counterweight to China's increasing influence. The Italians also have their own base, while troops from Germany and Spain are hosted by the French.
Analysts say Djibouti's geostrategic location and its stability in a volatile region has made it an important playground for world powers. Located between Somalia, Eritrea, and Yemen, Djibouti occupies a strategic location adjacent to the Bab el Mandab Strait, which is a critical corridor for international shipping.
Over the years, military powers have sent their forces to Djibouti either to carry out surveillance and counterterrorism strikes or to deter the threat of piracy to international shipping lines. More recently, Sunni Arab states like Saudi Arabia and the United Arab Emirates, who are concerned about the expanding influence of the Shiite-led Iran, have been taking an interest in Djibouti as a base to prosecute the war in Yemen and tighten the noose of Houthi rebels.
Ports of call
Djibouti handles an estimated 90% of landlocked Ethiopia's maritime trade, an important deal given the latter's 100 million population and exponential economic growth. Ethiopia had to increasingly start using the port of Djibouti after becoming landlocked when Eritrea broke off as an independent nation in 1991.
With very little in the way of natural resources or human capital, Djibouti's government "has spared no effort to translate geopolitical fortune into commercial and political advantage," says Matthew Bryden, the director of the think tank Sahan Research.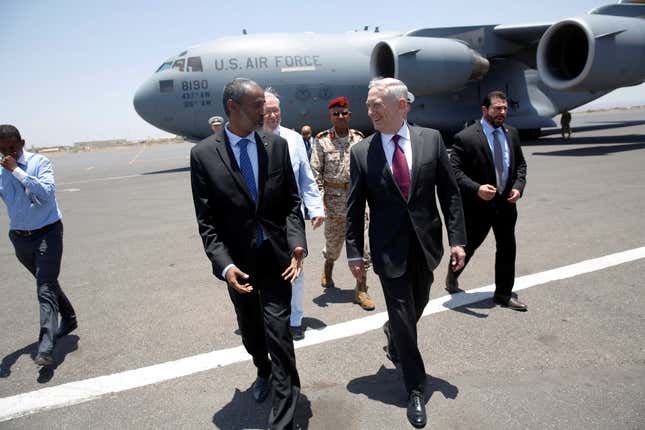 Bryden says that president Ismael Omar Guelleh has been the fulcrum in opening the country to international powers and renting some of its territory to foreign military bases. Since ascending to power in 1999, Guelleh has been re-elected four times, with his party holding the majority of the seats in parliament. The 70-year-old's rule over Djibouti has been labeled autocratic, with his government cracking down on opposition members and approving a constitutional amendment that removed presidential term limits.
In 2001, barely two years into power, and as the US-led War on Terror was unfolding, Guelleh started communicating to foreign powers that the microstate was friendly and was ready to punch above its weight.
As a poor country with high unemployment rates and susceptible to spikes in food and fuel prices, the rents from foreign countries' military bases would essentially prove crucial for economic growth. For instance, the United States pays $63 million annually to lease its base, while the Chinese will be paying $20 million a year besides the billions they are investing in building a railway, a port, an industrial park, and banks.
For Guelleh the situation proved to be a positive sum. "In addition to developing Djibouti's ports and infrastructure, Guelleh has attracted foreign bases that both provide income and a degree of protection from external aggression," Bryden said.
Yet Djibouti could be walking a fine line between neutrality and opportunism, says analysts. For instance, a recent spat with the Dubai-based DP World pushed the UAE to fund ports and military bases in both Eritrea and Somaliland. After Djibouti reduced its diplomatic status with Qatar, the latter removed its peacekeeping forces from the Djibouti-Eritrea border, raising tensions of a renewed border dispute. And with the arrival of the Chinese, any friction with Western powers who are just a few miles away from each other might test the limits of Djiboutian diplomacy.
Djibouti might also risk being drawn into other countries' wars. As Bryden says: "The Horn of Africa and the Middle East are currently rough neighborhoods, and Djibouti may find itself making enemies, not through any action of its own, but as a consequence of the actions of its military guests."