Botswana president wants you to know that he is not intimidated by China. Ian Khama, president of the diamond-rich nation of less than two million people, stood up to the global power over the Dalai Lama's planned visit to his county this week.
"We are not your colony," was the money quote of Khama's account of his diplomatic standoff with China in recent weeks.
The Dalai Lama was set to visit the capital Gaborone for Aug. 17 to 19, as part of what Botswana officials dubbed a "purely private" visit organized by the NGO Mind and Life Institute and the Botho University. Still, Khama was set to meet with the spiritual leader, riling the Chinese.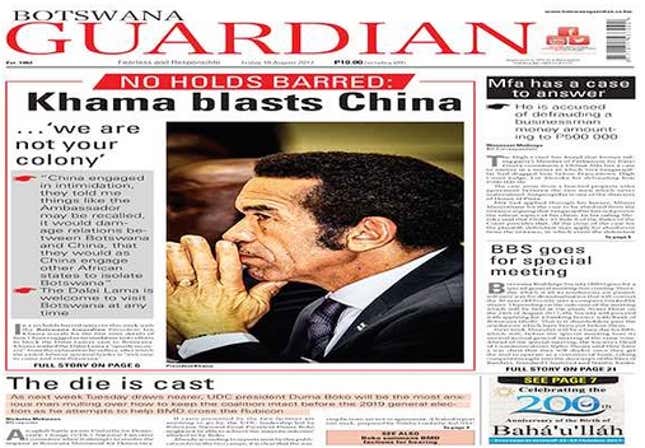 "They told me things like the ambassador may be recalled, it would damage relations between Botswana and China that they would as China engage other African states to isolate Botswana," Khama said in the Aug. 17 edition of the Botswana Guardian newspaper.
Neither side got to test the other's resolve after the Dalai Lama cancelled his trip late last week, citing exhaustion and a doctor's recommendation to avoid long trips.
"So we assume he will make a speedy recovery and once he has recovered, he is of course welcome to come and visit Botswana," Khama said defiantly. Chinese diplomats had earlier asked Botswana to "earnestly respect China's core interests and make the correct political decision."
Despite China's warnings, Gaborone forged ahead with preparations for His Holiness' visit. Gabz FM, one of the largest private radio stations in the country, ran regular advertisements for the live broadcast of the dialogue on "spirituality, science and humanity."
In the Dalai Lama's absence, the radio station still broadcast the three-day conference. Earlier this month, the Botswana Guardian newspaper published a glowing travel review of tourism to Tibet. The country's media seems emboldened by the president's stance that his country will not be bullied, sending the message that Botswana does not need China.
Botswana's economy has stagnated as global commodity prices have dipped. The country needs to open up to more international investors that are interested in more than its diamonds. In the past, Botswana has benefitted from Chinese infrastructure development, but that usually comes with the recognition of the One China policy, and icing out Tibet. Hosting the Dalia Lama is a diplomatic and economic risk few African countries will dare.
It's a gamble larger countries like South Africa have been too scared to take. Since Khama is stepping down next year, he won't have to deal with the fallout of his diplomatic defiance.