For years, Nairobi has been the cradle of technological innovation in Kenya, and the center of the country's thriving tech ecosystem, famously known as Silicon Savannah.
Most of the innovation spaces, incubation centers, accelerators, and maker labs were also concentrated in the capital—making Nairobi an attractive spot for both technologists and investors. Some innovation spaces, such as the iHub, which was founded in 2010, have launched as many as 170 startups.
But over the last few years, tech hubs have sprouted up in other Kenyan cities and towns, including Mombasa (SwahiliBox), Kisumu (LakeHub), Eldoret (Dlab Hub), Voi (Sote Hub), Machakos (Ubunifu), and Nyeri (Mt. Kenya Hub and DeHub). Some of these hubs work independently, while others operate within the framework of academic institutions. But all of them support entrepreneurs working at the intersection of the technological, creative, and cultural sectors.
The decentralization of the Kenyan tech industry is a sign that the market in Nairobi is saturated. And despite the capital's commercial and logistical advantages, it is still a very expensive city to live in and operate from for young entrepreneurs.
The ubiquity of connectivity across the country is also encouraging donors and investors: Mobile penetration among Kenya's 45 million people is up to 87%, and the country has one of the fastest mobile internet speeds in the world. The introduction of a more devolved system of governance in 2010 has also allowed counties to look to technology as a way to build local economies.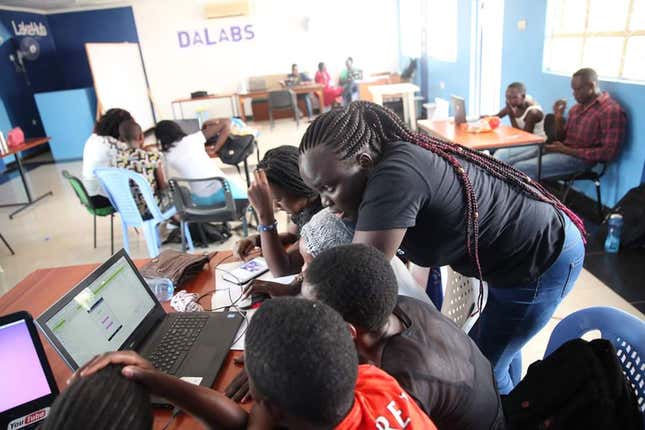 These are some of the factors that inspired Ahmed Maawy to start SwahiliBox in Mombasa four years ago. As a successful programmer and product developer based in Nairobi, Maawy always wanted to establish a space where young entrepreneurs and innovators could meet and exchange ideas in his hometown.
Despite technology allowing for remote communication and collaboration, a physical space allows for the creation of a community dedicated to building more complex systems and homegrown solutions that benefit local communities, he said: "My aim was to make sure that the same opportunity spaces present in Nairobi should and can be brought to Mombasa."
Early challenges
Sylvia Musalagani, a project officer with the Dutch development organization Hivos, which has worked with hubs like SwahiliBox and LakeHub, says that tech hubs outside of Nairobi still face challenges that hinder their growth into fully-grown innovation spaces. These include slow internet, lack of formal registration, the absence of business expertise, and the ability to manage finances or market their own products and innovations.
"A lot of them don't have the capacity to run these organizations, and as a result of that, they struggle with sustainability," Musalagani said. For the young and often inexperienced techies flocking to these spaces, hubs have to act as a knowledge-building space, training members on how to code, set up websites, or effectively use social media to promote their work. For this reason, Musalagani notes, tech hubs outside Nairobi need more funding than their counterparts in Nairobi.
James Odede, a co-founder at LakeHub, said that organizations that fund hubs are reluctant to provide support in an area where the model has not yet been proven, or a visible community of techies does not exist. When they initially applied for funds, Odede says they "had to spend a lot of effort figuring out" how to convince donors that there was a need for space. LakeHub today boasts 2,000 registered members.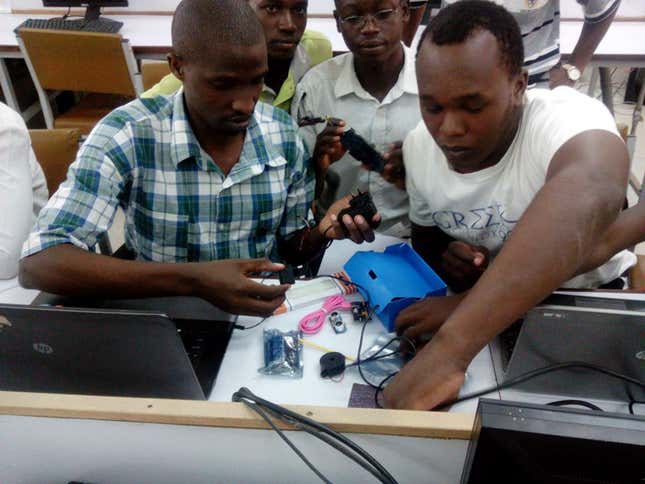 To overcome this challenge, Musalagani says that there needs to be a concerted effort between the government, private sector, and foreign investors to ensure these hubs have adequate support. This includes making it easy for them to access finances, and to set up alternative banking structures that could help sustain their business models.
"Hubs are disrupting the usual way of doing business in this country and they are disrupting it in a good way, by incorporating young entrepreneurs who are easily left out by the existing system," Musalagani said. "These are the kind of thinkers who are able to bring the kind of change that we need."