On Aug. 14, after three days of heavy rains, a massive landslide in and around Sierra Leone's capital Freetown created a national emergency that is fast becoming one of Africa's worst disasters in recent memory.
But as the tragedy unfolded, Sierra Leone's cry for "urgent support" was largely met with silence. There have been no celebrity appeals, concerts, or large funding campaigns, beyond the typical appeals from relief agencies. No outpouring of sympathy, Facebook photo filters to show support, or one-minute silences observed before major sports events in Europe—or in Africa for that matter. Foreign news crews, their attention diverted by other tragedies, have decided "to move on."
At least 500 people have died so far, over 800 are still missing, and 20,000 have been displaced from their homes. In the wake of the flooding, the United Nations says residents of the affected areas are vulnerable to disease outbreaks and the country might be at risk of a second landslide. The national emergency has also orphaned thousands of children, who are traumatized and are currently in dire need of psychological and social help.
For its part, USAID, which provides foreign civilian assistance, has offered only $100,000, according to an Aug. 21 letter by American lawmakers urging the agency to "immediately" release (pdf) an additional $20 million to help those affected. Canada's Humanitarian Assistance Fund has donated $275,000.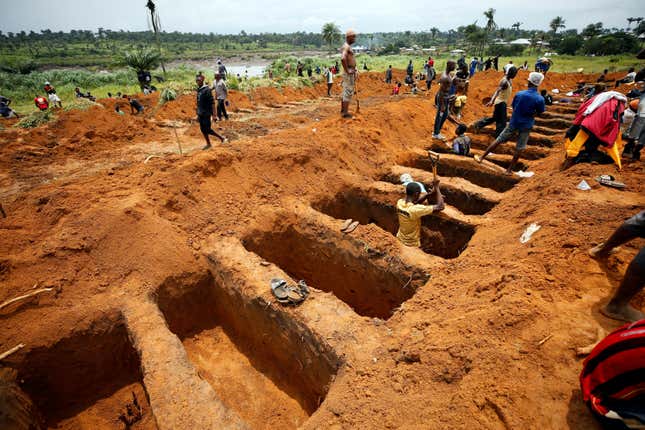 "There's a hierarchy of death," says Mallence Bart-Williams, a Sierra Leonean-German writer and filmmaker who started a funding campaign on Aug. 14 for flood relief that has raised €15,000 ($17,800) out of a €50,000 goal. Bart-Williams said that she had hoped that the world would have "the same sense of tragedy," the strongly-worded statements, marches, and activation of Facebook safety features that followed the terrorist attack in Barcelona on Aug. 17. But "when it comes to African death, it's just a number," Bart-Williams added.
The difference in response to and coverage of disasters or terrorist attacks depending on where they occur is not entirely new. In Nov. 2015, attacks in Paris and Beirut were met with varying levels of global empathy and coverage, highlighting an "empathy gap" in the responses. The famine endangering 20 million lives in South Sudan, Nigeria, Somalia, and Yemen this year has also been met with a slow response—amounts donated to the UN have valued each life at roughly $43. In 2015, a group of independent experts also blamed the World Health Organization for a slow response in tackling the Ebola epidemic hitting Guinea, Liberia, and Sierra Leone.
But Africa can also do better for itself. On the continent, the response to the tragic events in Sierra Leone has been slow. The African Union announced it would hand over a check of $100,000 this week, according to an Aug. 23 statement. A few West African nations have donated an undisclosed amount, according to a statement from Sierra Leone's presidency, while South Africa donated R8 million (about $605,000) to Sierra Leone for the provision of food aid. Some respite has come from private philanthropists, like Nigerian philanthropist Tony Elumelu, who donated $500,000 to relief efforts after visiting Freetown this week.
"All lives, whether on the African continent or elsewhere, are the same, and should attract the same media attention and human sympathy," Elumelu said.
As the possibility of finding survivors dims, locals have become body collectors, combing through the rubble for human remains. It's grim work aimed at reducing the risk of disease. Aid organizations that are on the ground are trying to focus on those with urgent needs, providing shelter and trying to stave off the spread of diseases like cholera. For the survivors, the massive loss of life and property is something they will grapple with for a long time to come. The world could do better by heeding their call.