Kenya is adjusting to life without plastic bags after a strict ban on the carriers went into effect this week. Traders in Nairobi swapped out the cheap lightweight plastic bags for cartons, paper bags, and envelopes, while grocery stores sold reusable fiber bags and cardboard boxes.
Kenya's ban on plastic bags is the world's harshest. Punishment for carrying, manufacturing, or importing plastic bags ranges from about $19,000 to as much as $38,000 or a jail term of up to four years (pdf). Trash bin liners, as well as plastic bags for disposing medical waste and chemicals are exempt from the ban, as are plastic bags used for industrial packaging of products.
Elsewhere, restaurants in Nairobi are packaging food deliveries in spare shoe boxes and other containers. Photos of a school girl in eastern Kenya who improvised a bag made out of dried banana leaves circulated social media. Others tied string around their vegetables for easier transport. Residents have been asked to drop off their plastic bags at local grocery stores.
The ban marks the third time officials have tried to cut down on the use of the bags in Kenya, where an estimated 100 million plastic bags (pdf) are given out by supermarkets every year. Previous attempts, which focused on bags of a certain level of thickness, were never fully carried out. Today, the bags litter most Kenyan roads and clog sewers and streams, damaging soil and water sources, as well as the animals that consume the plastic.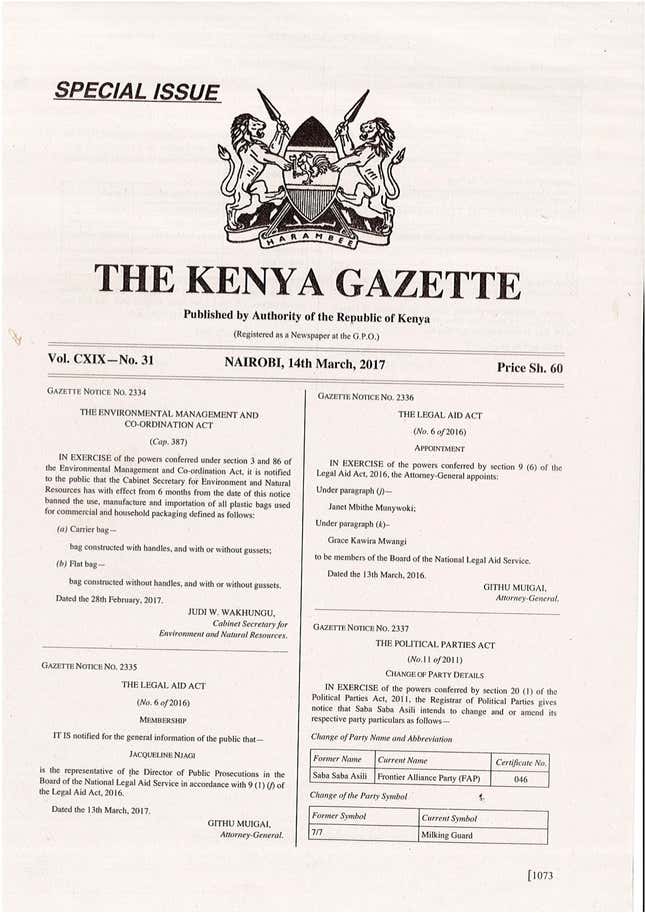 Small-scale traders and bag manufacturers have complained that the ban, announced six months ago to give residents time to comply, would mean a loss in jobs and profits. Others say the rule gives Kenya's security forces more opportunity to extort residents in a country where police bribery is already a problem. After reports of police stopping cars and searching for plastic bags following the ban, Kenya's National Environmental Management Authority (NEMA), the agency responsible for enforcing the rule, issued a statement saying it had not sanctioned car searches. Traders in Nakuru, northeast of Nairobi, also reported harassment by local police and security over having plastic bags.
About a dozen other African countries have instituted taxes, full, or partial bans on plastic bags, including Rwanda, Mauritania, and South Africa. The East African community has been considering a regional ban. More than 4o countries around the world have similar policies in place. Costa Rica is working toward banning all single-use plastic by 2021. Large retail shops in the UK have to charge five pence (about $0.08) per plastic bag. The US has no national ban or tax on plastic bags.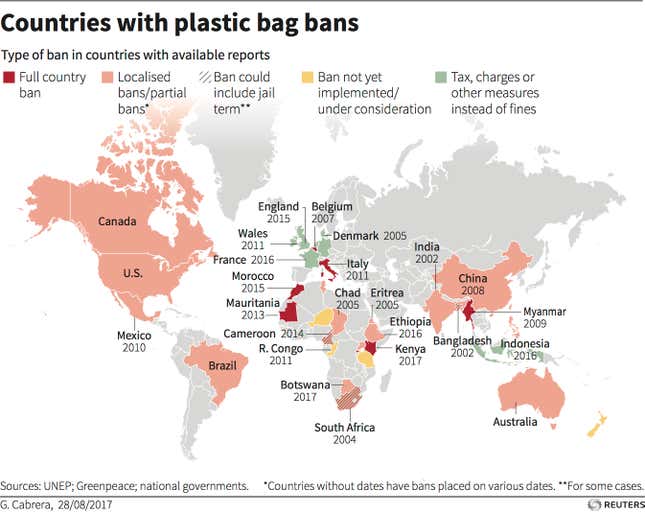 Supporters of the ban in Kenya claim it will give rise to new businesses. Already, traders are selling canvas bags, baskets, and tote bags in markets as well as on Facebook. NEMA has urged retailers and shoppers to look into alternative packaging material like "paper, steel or bamboo straws" or degradable or reusable shopping bags "made from starch, corn or potatoes."