In his address to the United Nations General Assembly yesterday (Sept. 19), Nigeria's president Muhammadu Buhari touched on one of the world's most pressing human rights issues: the brutal violence against Rohingya Muslims in Myanmar.
"The international community cannot remain silent and not condemn the horrendous suffering" of Rohingya Muslims, Buhari said of the "desperate human rights" situation. While his comments will appeal to Rohingyas, many Nigerians will be wondering why he doesn't practice similar sentiments with similar events back home.
Back in Dec. 2015, months after Buhari took office, a skirmish between Nigeria's military and the members of the Islamic Movement of Nigeria, a Shiite Muslim group in Nigeria's north saw "more than 350 people," including women and children, unlawfully killed according to Amnesty International, the human rights group.
Amnesty says the military tried to "destroy and conceal evidence" of the killings. Nearly two years after the alleged massacre of the Shiite Muslims and despite a court order for his release, Ibrahim El-Zakzaky, the leader of the Shiite group, is still being detained by the government. Nigeria's Muslim community is predominantly Sunni.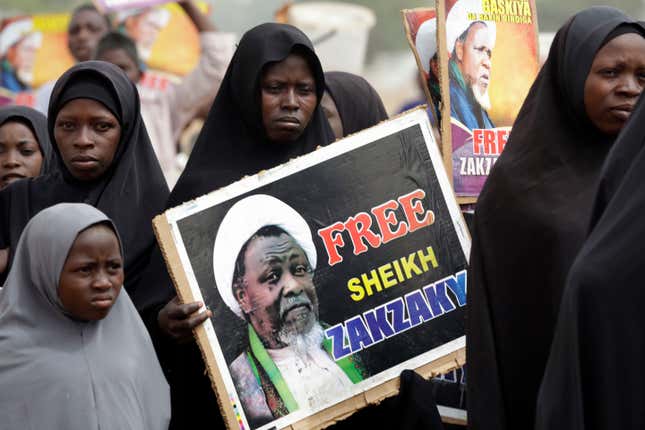 More recently, Buhari has faced criticism for his handling of secessionist agitations from the Indigenous People of Biafra (IPOB), a group in Nigeria's southeast. Last week, soldiers were deployed to the region to maintain peace but many have viewed it as a needless and brute show of force which worsened an already bad situation. The secessionist agitation is rooted in decades-long belief in the southeast that the region has been marginalized by Nigeria's federal government. Four people reportedly died in clashes between the soldiers and IPOB,
In his speech, Buhari also called on the UN to be mindful of "widening inequalities within societies" which may cause "frustration and anger leading to spiralling instability." But the over two million displaced persons in Nigeria's northeast will likely be puzzled by the president's sentiments given that inequality, frustration and anger are their daily realities.
Since being devastated by the long-running Boko Haram insurgency, displaced persons in the northeast have been forced to live in congested camps where hunger and disease are rife. Nearly half a million children in the region are severely malnourished, according to the Norwegian Refugee Council. Most of the internally displaced people's camps are underfunded by the government and officials have been accused of diverting and selling donated relief materials at local markets for personal gain.