Africa, particularly sub-Saharan Africa, has an electricity problem.
Even though the continent's power generating capacity has slowly improved over the years, rationing, rolling shortages, and blackouts continue to hamper many countries development—including economic giants like South Africa and Nigeria. These cutoffs stunt economic growth, hindering small and large businesses alike as well as schools and hospitals.
Limited financing also encumbers power generation. Estimates of annual investments required for the power sector between 2015 and 2040 range from US$33.4 billion to $63 billion. Yet the average annual spending in the past decade in the African power sector has been about US$12 billion. As a result, the low access, poor reliability and high prices of electricity cost African economies an average of 2.1% of their GDP, according to the World Bank.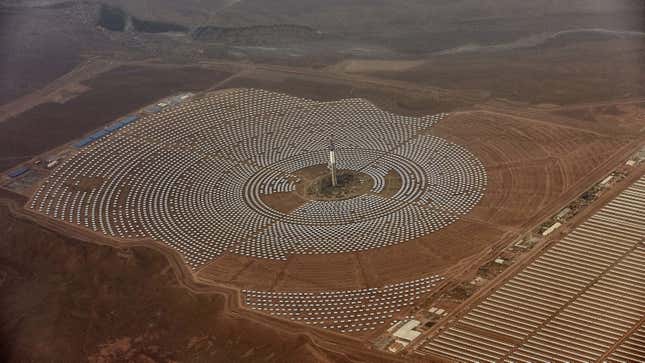 But while sub-Saharan Africa remains in the dark, north African nations have been making major progress with power generation. Egypt, Algeria, Tunisia, and Morocco have invested tens of billions of dollars in renewable energy projects—particularly solar power—as a springboard to drive their energy ambitions. By harnessing the power of the Saharan sun, these countries hope to not only bring down the cost of solar technology, but also scale it for larger use, enhance energy security, create cleaner environments, and boost the creation of new business opportunities.
Once operational, projects like the TuNur solar project in Tunisia, will open a new, intercontinental energy corridor between north Africa and Europe by delivering power to homes in Italy and France. The $10.7 billion, 2500 megawatts project will use a high-voltage direct current to connect to European grids as far away as the UK. Similarly, the Noor Ouarzazate complex in Morocco, considered the world's largest solar plant, is expected for completion in 2018 for a total cost of $9 billion. The 150 MW Kuraymat solar power field in Egypt, which was built in 2010, already supplies nearly 2 million people with power.
Observers say this shows the huge potential that solar power—and renewable energy by extension—hold for the continent. "Solar energy is an emerging opportunity that cannot be ignored," says Zandre Campos, chief executive of ABO Capital, an Angola-based fund which invests in energy, agriculture, and technology. Campos said north African nations were "true innovators" for spearheading these infrastructural projects and for building on the falling price of solar panels and the improved efficiency of light bulbs and appliances.
To expand the use of these efficient systems in African countries will, however, need a strengthened public-private partnership. Nations like Morocco have emerged as a global exemplar of going green, banning plastic bags and setting up ambitious goals to crack down on carbon emissions. In 2012, the government also phased out fossil fuel subsidies and shifted its focus to renewables. In 2016, it hosted the United Nations convention on climate change, and also kickstarted a four-year project aimed at using solar panels to generate power, heat water, and provide air-conditioning in hundreds of mosques.
These type of partnerships allows African governments to tap into additional knowledge and experiences in order to implement more renewable energy installations successfully. It also builds, Campos argues, on the long-term goal of integrating renewable energy, including wind, biomass and solar into the national grids. "Developing public-private partnerships allows the public sector, investors, and private companies to work together to meet the energy demand in a sustainable and effective way," he said.