For decades, various Nigerian administrations have championed the idea of diversifying an oil-dependent economy with agriculture often been cited as the top alternative. But rather than match bluster with action, Africa's largest oil producer has perennially remained reliant on it's biggest export.
More than 80% of farmers in Nigeria are small holder farmers who cultivate a few acres of land to feed their family and also sell produce to earn a living. Yet, while the government has failed—getting middle-class Nigerians to take up farming—thanks to technology, a crop of new agro-tech startups are finding success.
Rather than purchase farmlands and get involved the daily routine of the industry, startups like FarmCrowdy and ThriveAgric enable  interested middle-class Nigerians to fund existing farms for between $200 and $750 for a harvest cycle (which can last between five and six months depending on the crop) and earn up a share of profits.
For the investors, the entire process happens online. Once signed up, they're kept in the loop with bi-weekly email updates and videos detailing the progress of farms and expected harvest. At the end of a harvest cycle, investors receive the capital plus a pre-agreed profit margin via bank transfer. No physical interaction required although investors can visit farmlands if they wish to.
With capital from its farm sponsors, FarmCrowdy provides its network of over 3,500 farmers with funds, equipment and technical support to plant and harvest crops. To ensure quick sale of harvested produce, FarmCrowdy secures purchase orders from prospective buyers before each harvest cycle to ensure that supply matches demand. With a bulk of small holder farmers lacking the capacity to operate at scale, FarmCrowdy's business model allows them readily access capital to hire more labour and cultivate larger farmlands.
ThriveAgric operates a similar model, but there's a slight twist. Rather than fund farmers' existing farmland, the company leases farmlands from communities and then contracts farmers to plant crops based on demand. ThriveAgric also secures purchase orders for the produce to ensure sales after harvest. Since its launch five months ago, ThriveAgric has contracted nearly 300 farmers in its farms mainly across northern Nigeria.
For Onyeka Akumah, CEO of Farmcrowdy, the company's proposition is simple."There is a lot of interest in agriculture among Nigerians, but there's little guidance on how to go about it." We want to educate them about the process in a way they can relate."
Akumah is focused on channeling funds from middle class Nigerians with an interest in agriculture to small scale farmers who he says are often neglected. "It's impact plus returns," he says.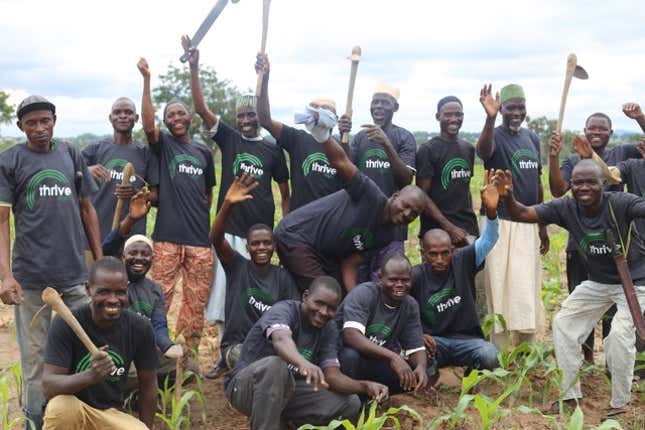 Since its launch in November 2016, Akumah says FarmCrowdy has attracted over 1,000 farm sponsors with a 76% rate of repeat investment. Another mark of its progress—and the public's interest, FarmCrowdy timeline for securing sponsors for its available farms has been cut from six weeks when it first launched to less than 10 minutes, Akumah says. ThriveAgric has also seen a high level of interest: Uka Eke, co-founder of ThriveAgric, says the company has seen a "400% increase" in farm subscriptions since launch earlier this year.
To protect investors' funds, both ThriveAgric and FarmCrowdy insure farms during the harvest cycle.
Beyond providing the farmers with access to capital and guaranteed sales, both startups are also focused on improving the value chain of agriculture by providing technical support to farmers through mobile devices and periodic visits by specialists who educate farmers on modern farming techniques in a bid to ensure higher efficiency for yields and better produce. (Akumah says FarmCrowdy is focused on production and sales rather than storage at the moment.)
Should crowdfunding farms become a mainstream practice among Nigeria's middle-class, the government could inadvertently see its dream realized. But to achieve that level of adoption in the long-term,  Nubi Kayode, an Ireland-based Nigerian who's invested in farms with both startups, says they must look beyond the internet. "The internet works for the diaspora market," he tells Quartz. "For local customer acquisition, they should look to have more physical retail presence to increase accessibility for people who want to get involved."