Nairobi
Ibrahim Adow is a 24-year-old protocol officer working for Somalia's president. And in the hours and days since the country's deadliest attack took place, he, like many Somalis, have thought about nothing else. He hasn't slept or eaten much, he says, and anger has been welling up inside him as the entire nation reels from the sheer scale of the explosion that killed more than 300 people and injured hundreds of others—with many more people still missing.
But as desperate families picked through the rubble in search of lost sons and daughters, Adow made a life-changing resolution: to leave civil service and join the ranks of the Somali National Army in order to defend his country from the threat of terrorism.
"I have made a decision to take up the gun and defend my country and my people," he says over the phone from Mogadishu. "There is no reason why I should stay at home and wait until I am killed in such a brutal manner."
Adow's reaction sums up the level of frustration—and revulsion—many Somalis have felt since Oct. 14, when a truck driven by a suicide bomber exploded at the busy Zoobe intersection in the capital Mogadishu.
The hellacious explosion that followed turned buildings into heaps of debris and death and precipitated a national disaster. Intelligence officials say the truck, which had raced through a police checkpoint, was meant to target the heavily fortified Mogadishu international airport where several nations have their embassies.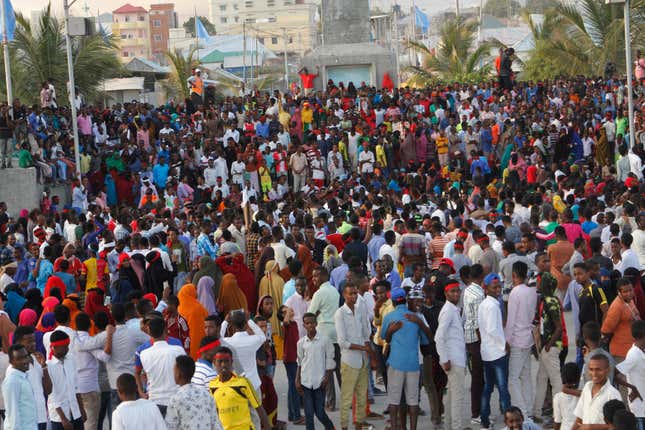 Yet even in a country long accustomed to the killing of public officials and attacks from the al-Qaeda-linked al-Shabaab group, the magnitude of the recent bombing seemed to stun everyone. The deadly blast also put the nation's mettle to test, appraising how much the post-civil war, "Somalia rising" narrative could be drawn out. And given the agnatic, close-knit Somali clan structure, the impact of this tragedy has gone wide and deep, affecting entire communities and ricocheting beyond the geographical borders of Somalia.
"Every household in Mogadishu has been affected," says Zahra Qorane, a photographer and a native of the city. "Our hearts cannot accept what has happened."
The collective rage over the bomb attack ignited a renewed sense of unity among Somalis, leading to protests in major cities and the staging of solidarity events. Even the leaders of Somalia's feuding federate states put aside their political differences and condemned the attack (In Somali).
And while some have argued that there was lack of public empathy for the victims, the scale of global response has been unprecedented in many ways. Countries including Turkey, Djibouti, and Kenya sent in assorted medicine, doctors, and planes to evacuate those in need of advanced medical care. Celebrities like Somali-American model Iman Abdulmajid and British rock band Coldplay donated to support the victims, while Paris dimmed the Eiffel Tower in mourning with those in Mogadishu. Leaders from the African Union and across the world also stood by the Somali government, promising to help combat terrorism and support efforts at achieving peace and stability.
Social media moment:
With the truck bombings now being referred to as Somalia's 9/11, it is through social media that Somalis continue to convey the gravity of the situation, and how this event deeply affected their lives. Through hurried collaboration, social media networks were able to not only appeal for assistance but also show that the 300 plus people who died were not a number: they were professionals and students, who had left behind families and friends, hopes, and ambitions.
They included Maryan Abdullahi, who was due to graduate from medical school this week. There was Abdiqadir Ali, a taxi driver who was on his way to pick up a client at a hotel. Ahmed Abdikarin Eyow was a community activist from Bloomington, Minnesota who was paying a visit to Somalia. There was Habib Hassan, who recently got married and who was still deemed as missing.
The profundity of misery has also been captured in photos: a citizen consoling a soldier as they clean the scene of the blast; the reformed terrorist donating blood, asking the attackers to "repent." In another, two children carry the charred remains of an unidentified victim in a cardboard box.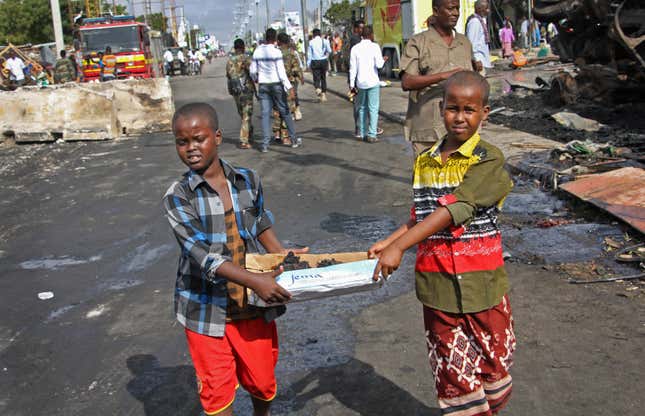 However, like searchlights in the dark, many Somalis say they are determined to turn this tragic episode into one about rebuilding, resilience, and ultimately, hope. When the bomb went off, the windows at Mohamed Bashir's creative agency were shattered. Bashir says "We are so angry, but we don't know whom we are angry at."
Instead of staying despondent, Bashir decided to direct his energy towards volunteerism—offering his services to manage the social media accounts of Aamin Ambulance, Somalia's only free ambulance service.
As an uneasy pall continues to hang over Mogadishu and the nation limbs towards recovery, Adow hopes that this event will steer the country towards a better future. "If this event doesn't unite the Somali people and rally up the youth, I don't think anything else will wake us up from this slumber," he said.